Swallows and Amazons | DVD review - Old-fashioned adventure with a dash of derring-do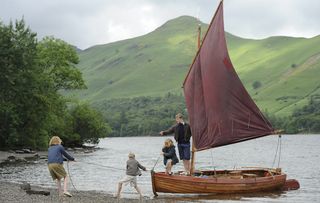 Arthur Ransome's classic pre-war tale of childhood adventure Swallows and Amazons still evokes a golden, prelapsarian age when kids were free range and mucking about in boats was the acme of excitement. Happily, helicopter parents are nowhere to be seen in this reassuringly old-fashioned screen adaptation, set in the 1935 Lake District and as cosily nostalgic as the cherished 1974 version.
The heart of the story remains the friendly rivalry between two sets of children, the visiting Walker siblings and the local Blackett sisters, although the new film does introduce a spy intrigue as a sub-plot (inspired by Ransome's own espionage career in Soviet Russia), which sees the book's houseboat-dwelling Uncle Jim (Rafe Spall) transformed into a dashing Buchanesque agent on the run from a pair of dastardly, hat and trench-coat wearing Russians (Sherlock's Andrew Scott and Dan Skinner). Inevitably, the children get involved in his plight. The ensuing escapades are heartily enjoyable, the mild thrills and spills expertly pitched for a family audience.
Certificate PG. Runtime 93 mins. Director Philippa Lowthorpe
Swallows and Amazons is available on Blu-ray, DVD & Digital Download on Monday 12 December from StudioCanal.
https://www.youtube.com/watch?v=ztIQkixuOmc
Extra features:
Bringing a Classic Tale to Life
Deleted Scenes
Clappers
Sailing With Crew
Interviews with Kelly Macdonald, Andrea Gibb and Rafe Spall
Get the latest updates, reviews and unmissable series to watch and more!
Thank you for signing up to Whattowatch. You will receive a verification email shortly.
There was a problem. Please refresh the page and try again.