Danny Dyer: I still want to make films, but the days of rubbish ones are long gone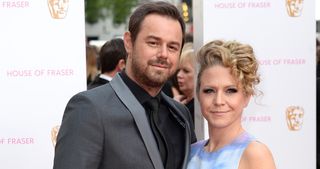 (Image credit: Doug Peters/EMPICS Entertainment)
Danny Dyer has revealed he still hopes to take time out from EastEnders to make films.
The 37-year-old hardman – who is nominated for Best Actor at the British Soap Awards this weekend – made his name in cult 1999 film Human Traffic and went on to star in a string of gangster movies, although he has admitted to making a few flops in his time.
Danny told Digital Spy: "My last film Assassin did really well. It was with Martin and Gary Kemp and it really was a success. I just want to keep my options open, really.
http://www.youtube.com/watch?v=HqLHIS5PyxQ&feature=oembed
"I totally still love filmmaking because that's where I'm from – it was my bread and butter for so long and it's how I learned my craft. So if it's the right script and right director and I can come to an agreement with EastEnders, then absolutely.
"But the days of me making s*** films are long gone – that's all behind me. EastEnders is just a great place for me to still hone my skills, because you can never learn enough as an actor. And if I want to go out and make a little movie, then so be it, bring it on."
The Carter family (BBC)
Danny also admitted reports he suffered from exhaustion were true, after he worked so many hours on EastEnders last year.
Danny said: "I knew we had to do that to cement the character, but physically and mentally it was difficult. I'd just had a baby, so it was also trying to juggle my real life, which is very important, with my fake family life!
"It did break me towards the end, but my body sort of knew when to break. I did all the Christmas stuff and it was really hard, really harrowing. Then my body just went, 'You can't do it any more. You need a rest'. Everyone could see that around me. I'd got the work done and they went, 'OK, he needs a break'."
Get the latest updates, reviews and unmissable series to watch and more!
Thank you for signing up to Whattowatch. You will receive a verification email shortly.
There was a problem. Please refresh the page and try again.