EastEnders' Kellie Bright: 'I watched Ant & Dec clips to get accent right for Vera!'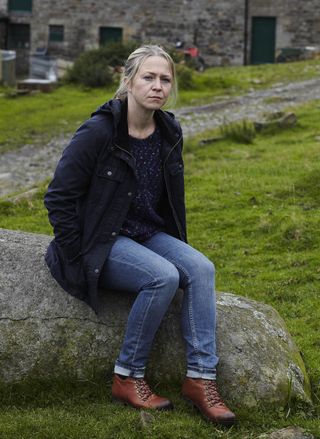 EastEnders actress Kellie Bright swaps Cockney for Geordie to play a woman at the centre of a dark murder investigation in Sunday's Vera on ITV...
Tell us about Ness, the character you play in this week's Vera...
"Ness has never moved away from where she grew up, had children very young and works for her sister, who's more successful. This has probably made her bitter, but she's always done everything she could for her kids - her life's been about them."
It's Ness's children who discover the victim - what are they like as individuals?
"Ness's daughter Sassi is a tomboy, who rides quad bikes and doesn't mind getting her hands dirty, while son Louis is shy and introverted, which for boys can be difficult. There's definitely a bit of role reversal going on with those two but I don't think that's a bad thing - my mum always goes on about the fact that she was a tomboy while her brother wanted to play with her dolls, so I think it's quite common really."
Ness is separated from the kids' father, Linus (played by Waterloo Road's William Ash). What was their relationship like?
"I don't think he was the best husband in the world or particularly the best father. I don't think he's a bad person necessarily, but he has been on the wrong side of the law in that he's done a bit of deer poaching - so he's just a bit of a wrong'un, as mum would say."
What was it like filming Vera in the north east?
"Cold, windy and wet! There's one scene where we're being interviewed in the back of a Landrover on the Moors... Oh. My. God... The rain was going sideways! I've never filmed in weather like that, but all the regular cast and crew were like: 'Yeah, this is normal.'"
Did you enjoy working with Brenda Blethyn, who plays Vera?
"Oh, it was amazing to work with Brenda. She's a very lovely lady who works very hard and is professional to her core. I loved working with her."
We're used to seeing you play Cockney Linda Carter in EastEnders - how did you master the Geordie accent for Vera?
"I watched loads of Ant & Dec clips on YouTube. It was nice to do something very different - I quite liked being a Geordie!"
Get the latest updates, reviews and unmissable series to watch and more!
Thank you for signing up to Whattowatch. You will receive a verification email shortly.
There was a problem. Please refresh the page and try again.