Ex-EastEnders star Ricky J Norwood, aka Fatboy: 'I catch up with my lovely June Brown when I can'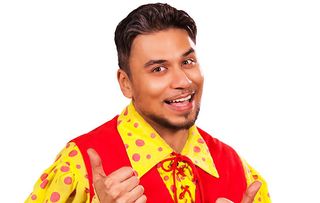 Former EastEnders star Ricky J Norwood - remember him as Albert Square's Fatboy - tells Soaplife about his panto-tastic role in Robin Hood and the Babes In The Wood and how he still catches up with June Brown
Ricky J Norwood starred as Fatboy in EastEnders for five years before his character was tragically killed off in a case of mistaken identity. That was two years ago, and now he tells Soaplife about his new role on stage in panto.
What's the story?
EastEnders actor Ricky J Norwood is having a great time playing the jester in his new panto role…
What's happening EastEnders? See the latest soap storylines?
Actor Ricky J Norwood tells Soaplife about his panto role in York this Christmas and catching up with June Brown
Soaplife: Woo hoo, you're in Panto Ricky!
Ricky J Norwood: "Oh no I'm not! Er, yeah, I am really. I'm appearing in Robin Hood and the Babes in the Wood at the Barbican in the beautiful city of York."
SL: Who are you playing?
RJN: "A character called Silly Billy Scarlet. He's the Buttons-type character in the show. He interacts with the audience and he's constantly bouncing around on stage. He's like the jester of the production and I wear a jester-like costume – a baggy red and yellow top and a baseball cap!"
SL: Do you stick to the script or get to improvise?
RJN: "It depends. The first time I was in panto was two years ago, and I stuck to the script until the last week. But last year and this year, I'm more relaxed about things."
SL: Does Fatboy get a mention?
RJN: "Yes. But it's the same with the other guys in the show. There's Boyzone banter with Shane Lynch, who's playing the Sheriff of York, and Brookside gets a mention because of Mickey Starke, who played Sinbad and is playing Nurse Nellie, the Dame, in our show."
SL: Does being in Panto get you in a Christmassy mood?
RJN: "Yeah, but it's a tough gig. There are a lot of shows. You give a lot, but what you get back from the audience is fantastic. Their excitement and energy transfers to us on stage and, at the end of every performance, you're buzzing."
SL: Are you still in touch with any of your old EastEnders cast-mates?
RJN: "Of course! When you've been on a show like that for a long time, you become like family. I had Tom Law, who used to play Peter Beale, round my house the other day. Nitin Ganatra, who played Masood Ahmed and who is going back into Eastenders, is a good mate, too."
SL: We still miss Fat Boy's touching friendship with Dot Branning…
RJN: "Don't worry. We're still in touch in real life! I catch up with my lovely June Brown when I can. I'll pop in and see her and we'll have a cup of tea and a bit of cake. I'll give her a hug and a squeeze. I miss June the most!"
SL: What are you doing for Christmas?
RJN: "We only get Christmas Day off, so I'll probably stay in York and celebrate with my cast members. It'll be too stressful to travel. We'll eat, drink and be merry – then it'll be back to work on Boxing Day."
Get the What to Watch Newsletter
The latest updates, reviews and unmissable series to watch and more!