Hollyoaks' Twinnie Lee Moore: 'I think I'll need therapy when the Pete storyline is over!'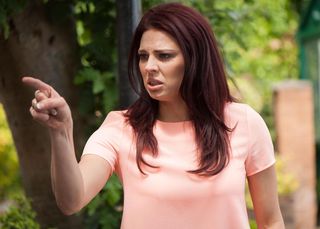 There's drama and heartache looming for Porsche in Hollyoaks thanks to love cheat Lockie and pervert Pete, says Twinnie Lee Moore…
With pervy Pete now on the scene, Porsche McQueen needs husband Lockie's support more than ever. But he's been sidetracked by his affair with John Paul [James Sutton] and is totally turned off by Porsche's constant drunken misbehaviour.
"She's pushing everyone away because she's in self-destruct mode," explains Twinnie Lee (opens in new tab). "She feels like she has no one to turn to."
Does Porsche suspect Lockie (Nick Rhys (opens in new tab)) might be cheating?
"No, because she's so wrapped up in her own world. She knew he was adventurous and all that, but when they got married, he said to her, 'That's it. You're the one for me!' And she believed him."
Things aren't good between them, are they?
"Porsche's being rotten to Lockie and he just takes it. When she opens up to him about the sexual abuse that went on in her past, he doesn't really get it. I suppose the thing about Lockie is he's very selfish. She's really hurt by his reaction."
Is that why she smashes up his car?
"She finds out something that she isn't happy about and that's why she trashes his car. That was amazing to film. I got there and said, 'Do you really want me to destroy this?' It was brilliant."
Does Porsche suspect Pete (Kai Owen (opens in new tab)) is making moves on Cleo?
"No, because they're so close, she feels sure Cleo [Nadine Mulkerrin (opens in new tab)] would have said something. There's an element of frustration and anger every time Pete hugs Cleo. Porsche's screaming and dying inside and thinking, 'You don't know what he's really like!' If Porsche thought there was any danger of Pete abusing Cleo, she wouldn't let him anywhere near her."
What's it like tackling such a massive storyline?
"Hollyoaks is so good at picking up these topical issues and handling them really well. I've had so many letters. One woman wrote to me and said it felt as if I was acting out her life story. She thanked me for being a pioneer for survivors."
Where is the story with Pete and Porsche heading?
"It gets a hell of a lot darker, so keep watching. I think I'm going to need therapy when it's over!"
Hollyoaks (opens in new tab), Channel 4
Get the latest updates, reviews and unmissable series to watch and more!
Thank you for signing up to Whattowatch. You will receive a verification email shortly.
There was a problem. Please refresh the page and try again.