Jenna Russell reveals she was 'very scared' at taking on Michelle Fowler role in EastEnders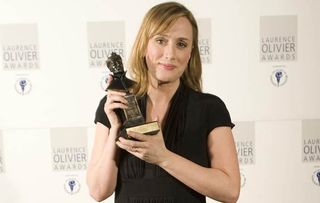 (Image credit: EMPICS Entertainment)
New EastEnders actress Jenna Russell said she had to overcome major nerves before she agreed to play Michelle Fowler, while the show's boss reveals he got Sue Tully's blessing
EastEnders' actress Jenna Russell says she was 'scared' to take on the role of Michelle Fowler who has returned to Albert Square after more than 20 years.
Originally played by Susan Tully, the memorable character was last seen fleeing Walford for the United States.
After appearing in Christmas Eve's episode of the hit soap, viewers complained about the recasting of such a high profile figure from the show's history.
And Jenna, who had to keep being handed the role a secret, revealed she had concerns over replacing Susan and hopes viewers will take to her version of Michelle.
"When you step into the shoes of a much-loved character it can be very scary.
"I know the audience loved her and even though she hasn't been on our screens for over 20 years, she is still an iconic character in the fans' psyche."
She added: "That scared me but sometimes it's good to be scared. I thought 'take a deep breath' and I decided to jump up and go with it.
"I just have to do my own version of her and hope the audience go with it."
Jenna said she feels she will be 'a good custodian' of 'mysterious' Michelle who will comfort best friend Sharon Mitchell (Letitia Dean) through a difficult period.
Jenna attended drama school with Letitia and feels their close friendship will bring sincerity to the role.
"Tish and I were at the same school together when we were 14, we were in the same class, but we haven't really seen each other since we were 19.
"The people Michelle is meant to have history with, I actually do have history with."
She added it felt 'horrid' not being able to tell friends about the new role and revealed she had turned down appearing on EastEnders when the show started in 1985.
Susan, now a director, was not asked to return as Michelle although she offered advice to Jenna, executive producer Sean O'Connor said.
"Her acting career is part of her past, it is really a closed door for her", Sean said. "But of course I contacted her immediately before I thought about bringing the character back.
"I wanted to ask her if there was anything she could share with me and Jenna, and the writing team, about Julia Smith and Tony Holland's (the original producer and script editor) original ideas for Michelle.
"It was important to me to make sure she gave the idea her blessing, and it was really delightful when she did."
And Sean said he was convinced in recasting Michelle following the 'successful' replacement of the character's brother, Martin Fowler.
"He joined the show, and after a very short space of time, the audience bought him as Martin, and so, as a viewer, did I.
"I thought it'd make the journey to bring his sister back that much easier, because you have two new actors coming to create this crucial relationship of brother and sister in one of the main families in the show."
Get the latest updates, reviews and unmissable series to watch and more!
Thank you for signing up to Whattowatch. You will receive a verification email shortly.
There was a problem. Please refresh the page and try again.