Sam Attwater: 'I do still get recognised from EastEnders but I've got a beard now!'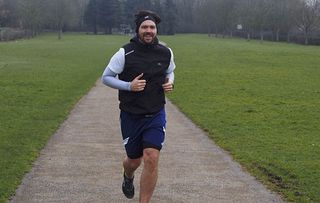 (Image credit: Gary Jones)
Sam Attwater chatted to Soaplife about life after EastEnders, training for the marathon, running his theatre school and being a family man…
Actor Sam Attwater, who played Leon Small in EastEnders, talked to Soaplife about gearing up to run the London Marathon…
What's happening in EastEnders? See the latest soap storylines
Soaplife: Sam, Sam, you're a marathon man!
Sam Attwater: "Yes, that's right. I'm running the Virgin London Marathon on Sunday 22 April. It's my first marathon."
S: Why did you decide to do it?
SA: "I've had friends do it and, every year, I'd say I wanted to do it, too. This year my agent, Bex, is running and I mentioned I was interested but I didn't really know how to go about it. She said I had to find a charity to run for and she suggested I tweet about it. So, I did and 11 charities came back to me, asking if I'd run on their behalf."
S: Which one did you choose?
SA: "The Children's Trust. It seemed like the fairest way to decide as they contacted me first."
S: Have you been training?
SA: "Of course. Bex gave me a 16-week training plan to follow. The furthest I've done to date is 28 km – that took just under three hours. I never would have dreamt six months ago I'd be running for nearly three hours non-stop. There are days when it's hard to get going but you get through it. I plug my music in and I'm off."
S: What do you think about while you're running?
SA: "Everything. It's actually the most creative I've ever felt as I've had time and space to think. You just don't get that on a normal day-to-day, basis. I've got a young family so I'm kept very busy running around after my two-year-old daughter. Going out for runs is like getting some 'me' time back – although it's not always easy to squeeze them in!"
S: Have you noticed a change in your body since you started running?
SA: "Quite a big difference. I've lost two-and-a-half stone, which clearly needed to be lost, by the way! I've also changed my diet. Since starting training, I've been trying to eat clean."
S: Are you nervous about running the London Marathon?
SA: "I have a real sense of anticipation. I keep imagining how it will feel to be on the start line with tens of thousands of other runners. Obviously, I'm hoping the weather will be good enough to have people lining the route, shouting encouragement.
S: Do you think people will realise it's Leon Small, your EastEnders character, running?
SA: "I don't know. I do still get recognised from EastEnders but I've got a beard now."
S: What else are you up to?
SA: "I'm busy with my theatre school, Universal Performing Arts, at the moment. Plus, I'm going for quite a few auditions, but now I'm a family man, I don't want to be away from home for weeks and months on end."
Pic credit: Gary Jones
Thank you for signing up to Whattowatch. You will receive a verification email shortly.
There was a problem. Please refresh the page and try again.