Dominic Brunt: Nicola Stephenson has been 'amazing' as Tess in Emmerdale (VIDEO)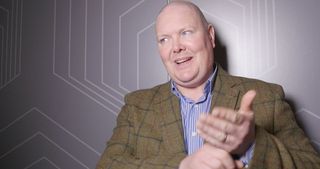 Emmerdale star Dominic Brunt has hailed Nicola Stephenson's performance as 'amazing' following her character's dramatic death tonight, run down by a car driven by drunk Kirin Kotecha.
Dominic's character Paddy has been conducting an affair with teacher's assistant Tess, a relationship he had been unsuccessfully trying to end.
Dominic was full of praise for Nicola, who previously starred in shows such as Safe House and Holby City: "We knew when Nicola got the job, she was here for a finite period of time, because she liked the story. Nicola's going off doing big high-end dramas all the time, and big tours, she's a really well-thought-of dramatic actress, but she really liked the story and said I'd love to do this so we brought her in for this."
He continued: "She's been amazing and we've been going, 'This is really really heavy', [but she said] 'usually I'm playing light-hearted stuff or I'm attached to light stuff as well as dramatic, but I've never been in the middle of the drama. I've always been part of other people's stories that have been really heavy, so it's the first time for me to be the centre of it. It's been fantastic!'"
Dominic was less enthusiastic about Paddy, whose affair will haunt him long after Tess's death: "I have no sympathy for the man at all! It's appalling, he's betrayed the trust of people, I don't think he handled Tess's feelings very well and interestingly your instinct is to to go the writers, "No I wouldn't do this, he's a likeable character!'
"Instead... I'm just going to grasp it. I'm going to run with it and indulge myself in the badness."
Watch the interview with Emmerdale star Dominic Brunt, above."]
Get the latest updates, reviews and unmissable series to watch and more!
Thank you for signing up to Whattowatch. You will receive a verification email shortly.
There was a problem. Please refresh the page and try again.