Emmerdale's Emma Atkins: 'I used to be anti being an older mum… Not now!'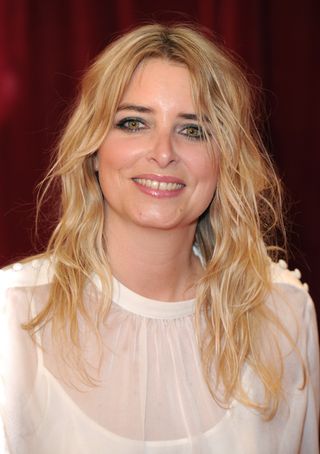 (Image credit: Doug Peters/EMPICS Entertainment)
(opens in new tab)Emmerdale star Emma Atkins tells Soaplife about maternity leave and becoming a first-time mum at 40…
Charity's in prison, with just her love of Cain to keep her company. But life is a whole lot happier for Charity actress Emma Atkins… She has taken a year off from Emmerdale to have her first baby with her partner, Tom. The pair share a home in a village near Leeds.
"I'm really excited about this next adventure in my life," Emma tells Soaplife…
How do you feel about having a whole year off?

"I'm enjoying my 'lady of leisure' time. I'm due to give birth in March, so until that happens, I can go and meet my friends for tea and cake. That feels so luxurious."
Are you nervous about the birth?
"No, I'm really excited. Obviously I'm a bit apprehensive because my body has never gone through something like this before, but I'm trying to keep away from the horror stories…"
Are you having a boy or a girl?
"We decided not to find out. I want Tom to tell me the sex of the baby once it's born. The idea of already knowing the sex and naming it doesn't work for me."
You also turn 40 this month… How do you feel about being an older mother?
"I used to be quite anti the idea of being an older mum, but as it's happening now, I feel like the timing couldn't be better. I like to think I'm young at heart."
So you are not dreading the big 4-0 then?
"I'm really excited about it. I think I've reached a point in my life where I totally understand what I'm about. I don't have to apologise for who I am."
Tell us about Tom, your partner….
"He's not an actor, he's a businessman. Tom and I have only known each other for 18 months, but as soon as I fell pregnant I was excited. I absolutely adore him and he feels the same way about me. He's gorgeous."
Are you going to get married?
"We both talk about getting married and we would like to, but there's no rush."
Are you going to miss your Emmerdale pals during your maternity leave?
"I'll miss them all so much, but I'll stay in touch and I'll be watching Emmerdale while I'm off. I love all the soaps."
And you're definitely returning to Emmerdale?
"I'm not going anywhere! I've played Charity for nine years and loved it, but I could do with a little break. I'm nothing like the woman that she is, but to play somebody with those flaws is brilliant. It's always a challenge."
What sort of mother do you think you'll be?
"I don't know, but I've always wanted to be a mum. I live on my instincts and hopefully that will get me by. Tom and I have never been parents before, so we're a bit nervous, but we'll muddle through. As long as you can love your baby and make it laugh, the rest you can learn along the way. "
Get the latest updates, reviews and unmissable series to watch and more!
Thank you for signing up to Whattowatch. You will receive a verification email shortly.
There was a problem. Please refresh the page and try again.