Emmerdale's Natalie Anderson: 'I cried while filming Alicia's talk with Chrissie'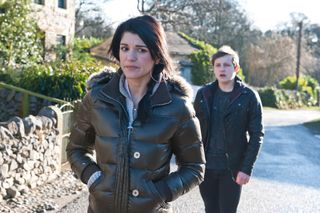 Emmerdale (opens in new tab)'s Natalie Anderson (opens in new tab) talks about Alicia's feelings in the wake of Lachlan's assault...
How difficult was it to film the assault itself with Thomas [Atkinson, who plays Lachlan]?
"It's a delicate storyline and Thomas is only 16, but we have had many meetings and discussions. Thomas takes his job very seriously and has been nothing but professional."
How did you feel when you first found out about this storyline?
"I was shocked, but I understood why the Metcalfes were the right family to do this with as they're relatively young parents. For my part, I saw it as a huge responsibility and want to do it justice."
What did you find out in the course of your research?
"It was very disturbing. I found evidence of similar attacks made by children on older women and then countless pornographic websites almost glorifying them. I was horrified and see it as a social problem."
Is Alicia worried about how Jacob is taking this?
"Yes, she tries to do the right thing in telling him, but he's 12 and very protective of his mum. The assault has a massive impact on everyone and it's not something that will be dealt with in the space of a few weeks. This is serious for Alicia."
How does Alicia feel when David kidnaps Lachlan to teach him a lesson?
"In a weird way, Alicia is grateful to David, as nobody has reprimanded Lachlan. But David could go to prison …"
What happens when Chrissie asks Alicia to tell her what went on with Lachlan?
"It's a parent-to-parent talk about what her son has done. It's very moving and I cried when we were filming it."
Get the latest updates, reviews and unmissable series to watch and more!
Thank you for signing up to Whattowatch. You will receive a verification email shortly.
There was a problem. Please refresh the page and try again.