Ex Emmerdale and Corrie star Hayley Tamaddon: 'Fate took a hand in my new role'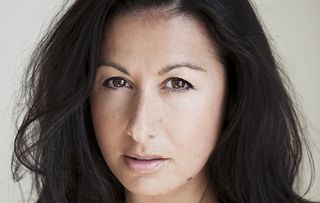 Former Emmerdale and Corrie actress Hayley Tamaddon says fate led to her grabbing a part in a brand new time travelling musical!
As Delilah Dingle in Emmerdale and then Andrea Beckett in Coronation Street, Hayley Tamaddon's storylines were mostly light but occasionally touched on the serious. Remember Del conning cheating boyfriend David Metcalfe out of thousands? And Andrea's shocking double life? But with soap currently behind her, she's now on stage and appearing in brand new musical Closets.
Hayley as Delilah Dingle with Matthew Wolfenden as David Metcalfe in Emmerdale
What's the story?
"It's a show that's truly ground-breaking and couldn't be more relevant in 2018 – in this sense, it's probably the most important role of my life," Hayley tells Soaplife.
"It's 1988 and young lad Henry is struggling with his sexuality. He knows he's gay and is bullied at school. If anything, it's even worse at home. His mum Susan, who I play, is in total denial about Henry and doesn't even believe there is such a thing as being gay.
"One day, she catches him wearing her clothes and goes absolutely ballistic. Henry retreats to the closet in his room where he always hides when he's upset. There's a massive bang and a huge flash of light – and when Henry dares to open his closet door again, he finds himself in 2018!"
What's happening in Emmerdale? See the latest soap storylines
Ex Emmerdale and Coronation Street star Hayley Tamaddon talks with Soaplife about her new role in a time-travelling musical…
Soaplife: So, what happens when Henry finds himself in 2018?
Hayley Tamaddon: "He's still in his bedroom and there's another young lad living there – a young lad who's also gay - but 30 years on, life is different for him. There's no need to hide, he can be himself and his mum is lovely – really understanding and caring. She's the total opposite to Susan."
S: And the show's a musical?
HT: "Yes – a time travelling musical. That must be a first! The songs are great, it's a beautiful script and it's a lovely, crazy story. But on a more serious note, I think this show will help lots of people – particularly young people who are struggling to come out and come to terms with their sexuality. Henry's story rings so true to me."
S: Can you explain more?
HT: "I was born in 1970s, had an '80s childhood and my best male friend was gay. He was beaten up and bullied at school, and – as with Henry – it was just as bad at home. Although his mum tried to be understanding, his stepdad and three older brothers were in denial and were really bullying. I recall him being in tears on a weekly basis. My poor friend couldn't deal with his situation. If only this show had been around then. We need more plays like this to encourage people to talk."
S: Your involvement in Closets came about out-of-the-blue, didn't it?
HT: "Completely. I wasn't meant to do it at all. When I last chatted to Soaplife earlier this year, I was in rehearsals for long tour of Thoroughly Modern Millie which was supposed to take me through till late August. But then, in June, the production was suddenly pulled. We were broken hearted and when I was first offered this, I didn't know if I felt ready – especially as they needed someone really quickly."
S: What persuaded you to change your mind?
HT: "I read the script and loved it. I thought it was such a great idea and was excited about going into a brand-new show – something I'd never done before. And then fate took a hand…"
S: Can you explain how?
HT: "I came down to London for Gay Pride and said I'd mull it over. I was on the ITV float and who should join me on there but Sam Retford who plays Cory Wilson in Ackley Bridge and who had been cast for Henry in Closets! It was the weirdest thing. 'Oh my God!' I said. 'I might be playing your mum in Closets.' After that, there was no 'might' about it. It was obviously meant to be. Everything feels right – even down to the fact that we're performing in the lovely Hope Mill theatre in Manchester, the city where I live."
S: Is Closets playing anywhere else?
HT: "Well, there's a tradition of plays that run there going down to London and playing in an off West End venue so hopefully, yes. There's also talk of it being made into a feature film which would be amazing. The play was originally written as a short film with the amazing Julie Hesmondhalgh playing one of the mums. That was another sign that I should do it, if you like – me and Julie having both been in Corrie!"
Get the latest updates, reviews and unmissable series to watch and more!
Thank you for signing up to Whattowatch. You will receive a verification email shortly.
There was a problem. Please refresh the page and try again.