Ex-Emmerdale star Lisa Riley on her new TV comedy drama...and tattoos!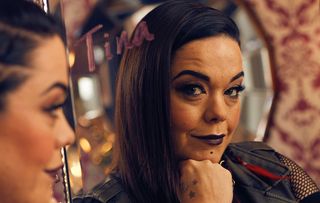 Former Emmerdale star Lisa Riley – remember her as Mandy Dingle - tells Soaplife about her new TV role and chickening out of having tattoos…
Lisa Riley played Mandy Dingle - one of Emmerdale's most popular characters ever - from 1995 to 2001, leaving after divorcing Paddy Kirk. Since then she's been a regular face on TV and a permanent member of the Loose Women panel since 2016.…
What's the story?
Lisa is starring in the new BBC comedy drama, Age Before Beauty. "It's the story of an unconventional Manchester family, who run a failing beauty salon called Mirrorbel," Lisa tells Soaplife. "It's an exploration of youth, age, instant gratification, long-term relationships and intense sibling rivalry."
What's happening in Emmerdale? See the latest soap storylines
Lisa Riley chats to Soaplife about her new TV role…
Soaplife: Who are you playing, Lisa?
Lisa Riley: "Tina, who's one of four sisters. She's the confidante and totem pole who keeps the family together. When the chips are down within the family, she deals with it brilliantly through her sarcasm. She's direct, truthful and honest."
S: What's her job in the salon?
LR: "Tina's the tattooist and she does lip lines and eyebrows. Tina has a lot of tattoos herself. It took hours in make-up to have them applied every morning, but each tattoo tells you something about Tina. There's a wise old owl, which represents her role in the family, a key which means she'll lock away secrets and so you can trust her, and the Manchester Bee."
S: As Tina, do we see you with needle in hand?
LR: "As research, I sat in with female tattooist for a day but when I was 'tattooing' on set we had the foot peddle, the ink and the noise – but not the needle."
S: Have you got any tattoos in real life, Lisa?
LR: "I've been to the tattoo parlour three times, but I've chickened out each time. I want one on my foot and I'll probably get it one day, but the idea of it being forever freaks me out slightly."
S: What do you think of society's obsession with having surgical procedures and the like to enhance our looks?
LR: "I had two massive operations to make my body better after I lost all my weight, but I've still not had Botox yet and I'm 41. I'm really into fitness now and I get a real buzz from it. There is massive pressure to look good – especially for actors - but nowadays people talk about things like eyebrow tattoos like they're buying a Twix."
S: What do you think about that?
LR: "I fear that we're removing young people from being children now and that does concern me because I never had that. We were allowed to grow up. You're told you have to look a certain way but you don't. It's much better to walk in your own shoes and find your own look. Be individual. Even when I was at my biggest, I still dressed differently. Don't be a sheep."
Age Before Beauty begins Tuesday 31 July at 9:00pm on BBC 1
Get the What to Watch Newsletter
The latest updates, reviews and unmissable series to watch and more!