'I'm giddy just thinking about marrying Rosie!' says Emmerdale's Michelle Hardwick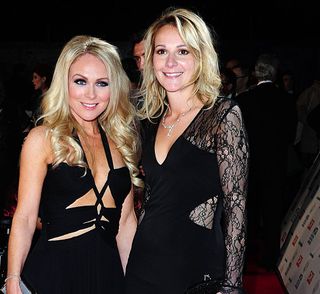 (Image credit: PA Archive/Press Association Ima)
Emmerdale star Michelle Hardwick tells Soaplife about being in love and plans for her big day with her partner Rosie Nicholl…
Who popped the question?
"I did. We were on holiday in Gran Canaria in January 2014. We'd just been out for an evening meal and when we got back to the apartment, I got down on one knee. I had put roses on the floor and James Taylor's Whenever I See Your Smiling Face was playing, as that's Rosie's favourite song. Thankfully she said 'Yes'! If she hadn't, it would have been awful!"
What sort of wedding are you having?
"I don't know what's considered big, but we have roughly 130 people coming. I have such a big family and Rosie is such a social butterfly. The ceremony and the reception are all in one place. We're both wearing dresses… we went dress shopping together. We have very different styles, but we wanted the dresses to complement each other. We've gone for ivory and both our dads will be giving us away."
Are any of the Emmerdale cast members going?
"The vets are coming; in fact, Zoe [Henry who plays Rhona] is going to be my witness."
What was the public's reaction when you came out?
"The reaction has been fantastic. It's wonderful doing interviews like this and not dreading the question: 'Is there anybody special in your life?' I used to avoid that question. I made sure that my family, Rosie and her family were OK with me speaking publicly about the relationship and they were happy about it."
You're such a positive role model for young gay women…
"I do get a lot of mail from younger girls who are struggling with their sexuality and they have no one to talk to. I always reply and do the best that I can to give them advice. I realised I was gay when I was 18 and I'd have loved it if there'd been somebody older I could have looked up to, or written to."
What made you fall for Rosie?
"We really get on and share an interest in being outdoors. We love going on walks. Rosie is like my best mate. It's fun being with her, but then we have the other side as well. We were friends for a year before anything happened."
Was Rosie an Emmerdale fan when she met you?
"No, she rarely watched any TV. The only thing she liked was The Walking Dead. She didn't know me from The Royal or any of the other work I've done. Now, though, she watches Emmerdale and enjoys it."
Do you want children?
"Being a teacher, Rosie sees enough of children at school and I have a nephew, Daniel, who's three and a niece, Lydia, who's six. They come to stay with us and we really spoil them. We have the best time with the kids and then we hand them back. We've also got a cockapoo called Harley who can be quite a handful."
You must be really happy right now…
"I can't complain at the moment, I really can't. Every day I wake up and I don't take it for granted. You never know what's around the corner, so as long as the family are all well and fine, we have a roof over our heads and food on the table, then I'm happy."
Emmerdale, ITV.
Get the What to Watch Newsletter
The latest updates, reviews and unmissable series to watch and more!