'I'm going back to Emmerdale!' says Verity Rushworth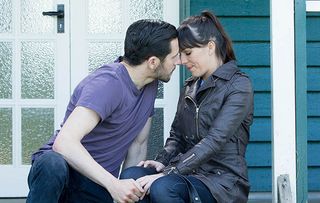 Actress Verity Rushworth, who played tragic Donna Windsor Dingle in the Dales-set soap, tells Soaplife that she going back to her old stomping ground!
Donna Windsor Dingle fell to her death in dramatic scenes, during a rooftop fight while battling a terminal illness. That was four years ago. So how can it possibly be that Verity Rushworth, the actress who played her, is returning to Emmerdale?
What's the story?
"Donna's not coming back from the dead!" Verity tells Soaplife. "I'm doing a Meet & Greet at the fabulous Emmerdale Experience on Saturday June 30th. Fans of the show will tour the studio, which means they'll go onto the set of the Woolpack, visit the Dingle's house and other internal sets, plus the wardrobe department where some iconic costumes are kept. Then, afterwards, we all have a chat. It's the next best thing to actually being in Emmerdale!"
What's happening in Emmerdale? See the latest soap storylines
Verity Rushworth's interview with Soaplife about her return to Emmerdale…
Soaplife: Are you looking forward to going back to Emmerdale?
Verity Rushworth: "Very much so. It will feel a bit weird, but also like coming home. I can't wait to meet the people on the tour and also catch up with some of my old Emmerdale pals."
S: Anyone in particular?
VR: "Little Amelia Flanagan, who plays April. I was her mum! I'm really good mates with Mike Parr who plays Ross Barton, then there's Charlotte Bellamy, Tony Audenshaw, Zoe Henry and Mark Charnock. I can't wait to see everyone. Leeds is still home to me. It's where my parents live, so I'll also be catching up with them, too."
S: Are you sad that you're no longer in the show?
VR: "It was a great part of my life. I started playing Donna when I was 12 and I'm 32 now! I was in it for 16 years, then I went back for five months in 2014. That's a very long time and I'm enjoying other stuff and playing different parts now. It's why I wanted to become an actress."
S: You've been doing lots of theatre, haven't you?
VR: "I've just come out of the musical Kinky Boots in London's West End, which I was in for a year. Appearing in an incredibly glamorous musical, singing Cyndi Lauper songs and playing opposite drag queens couldn't have been more different to the often traumatic and dramatic storylines Donna had in Emmerdale."
S: You and your theatre director husband, Dominic Shaw, are proud parents of a little girl!
VR: "Yes! Amelie is two in August. She and I have just got back from a baby ballet session actually. I love being a mum – it's a total joy - but I love working, too."
S: Do you find it hard combining motherhood and work?
VR: "Yes! But it's the same for all working mums, isn't it? For me, being in the theatre is quite a good way of combining the two. I was getting to spend all day at home with Amelie then going to work in the evening, by which time she was in bed. Having said this, it could be exhausting… I've lost weight and become quite skinny because there never seemed time to eat. Now I'm making up for lost time, though, and eating loads."
S: What's next for you workwise?
VR: "I'm having a bit of a rest over the summer, then I'll start seeing what's out there."
S: What would you prefer - TV or more theatre?
VR: "I'd love to do more telly. There's now enough distance between me and Donna so that I'm not immediately associated with her. I'm going to meet up with former Emmerdale and outgoing Corrie producer Kate Oates, who's involved with some new TV projects. As far as Amelie is concerned, though, theatre in London works very well. So, I'll have theatre for the next couple of years until Amelie goes to school and then do some TV, thank you very much!"
S: What do you like doing when you're not working or looking after Amelie?
VR: "My favourite thing is going to the theatre. I just can't get enough of it. I've set up a theatre club with some of my friends and we make sure we go and see a show every week."
Get the What to Watch Newsletter
The latest updates, reviews and unmissable series to watch and more!