Emmerdale's Michelle Hardwick: 'Amy Walsh and I said make Vanessa and Tracy sisters!'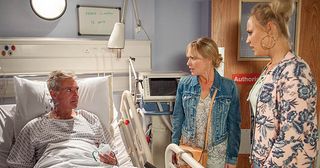 Emmerdale's Vanessa and Tracy find out they are sisters – and neither of them is happy about it, but the actresses were, explains star Michelle Hardwick
Vanessa and Tracy find out that jailbird Frank is their father in Emmerdale. Yes, they're sisters – and they're not happy about it, as Michelle Hardwick explains to Soaplife.
What does Vanessa think about her dad? "Vanessa was 10 when her mum kicked Frank [Michael Praed] out. She had spent her childhood listening to them argue and all she can think about is how he hurt her mum, so she is quite resentful towards him. He hasn't been part of her life for years. She's got a stepdad and she has taken his surname of Woodfield."
What is Frank like? "He was a bit of a chancer when Vanessa was growing up and had affairs left, right and centre – one of them was with Tracy's mum."
How does the truth come out? "Vanessa sees Tracy at the hospital with Frank and thinks she is cheating on David with him! She literally thinks she is there to crawl into bed with him and then Tracy says 'Sorry, Dad' and Vanessa is like 'What? He's not your dad?' He pretends to be asleep and then wakes up."
What does Vanessa think of having a half-sister? "She is not happy because Tracy is so disrespectful. She's just a freeloader and the tension between them has been building and building."
What do you think about Vanessa being Tracy's sister? "Vanessa isn't happy, but I am. On Twitter, people have said that Amy Walsh [who plays Tracy] and I look like sisters. We've always laughed about it. This storyline was our idea. I was going through my lines and talking about Vanessa's dad being in prison. Amy mentioned that Tracy's dad was in prison, too and the make-up girl said, 'Imagine if you had the same dad!' and then we pitched the idea."
Are you friends off screen? "Oh yes, we have proper banter in real-life. We hit it off as soon as we met – which was at Denise Van Outen's one-woman show. We have mutual friends. We are quite similar and have the same tastes. I can tell Amy anything."
When do the rest of the village find out that they are sisters? "On the same day that they do. They tell everyone in the pub."
Will Tracy and Vanessa bond? "Well it will be a bit tense at first because Frank prefers Vanessa and sparks will fly!"
Emmerdale, ITV
Get the latest updates, reviews and unmissable series to watch and more!
Thank you for signing up to Whattowatch. You will receive a verification email shortly.
There was a problem. Please refresh the page and try again.