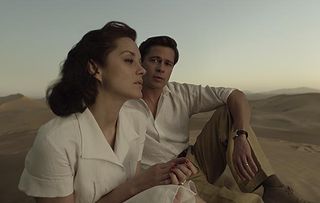 (Image credit: Paramount Pictures)
An enjoyably old-fashioned espionage thriller starring Brad Pitt and Marion Cotillard as a couple tussling with love, loyalty, suspicion and deception in the midst of World War Two
An enjoyably old-fashioned espionage thriller starring Brad Pitt and Marion Cotillard as a couple tussling with love, loyalty, suspicion and deception in the midst of World War Two.
Pitt plays a Canadian airman working for British intelligence and he hooks up with Cotillard's French Resistance fighter after parachuting into Nazi-occupied Morocco in 1942. Their mission: assassinate the German ambassador.
In sun-baked Casablanca, the strangers must pose as husband and wife to undertake their perilous assignment; a year later, in grey, damp London, they are husband and wife for real.
Then comes news that British intelligence has sprung a leak...
Sumptuously glossy, this movie, directed Robert Zemeckis, looks fabulous. And so do its stars. Even when the bullets are flying, they still look impossibly glamorous.
Take a step back, and the film's melodramatic intrigue begins to look shaky, but there are so many sequences of high suspense you might not even notice.
And, in the moments in between, Stephen Knight's screenplay gives its hero and heroine some delicious repartee for us to relish. 'You'll be OK to use a Sten on the night?' asks Pitt on the eve of the mission in Casablanca, fearing his partner won't get to grips with their weaponry. 'I would be OK if I had to use cutlery,' is her blade-sharp response.
Get the latest updates, reviews and unmissable series to watch and more!
Thank you for signing up to Whattowatch. You will receive a verification email shortly.
There was a problem. Please refresh the page and try again.