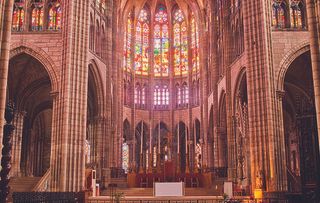 (Image credit: robertharding/REX/Shutterstock)
After showing us the art history of countries including Spain and Russia, Andrew Graham-Dixon presents this new series about the art of France
After showing us the art history of countries including Spain and Russia, Andrew Graham-Dixon presents this new series about the art of France.
He begins at the crypt in the basilica of Saint-Denis, not only the resting place of most of the French kings and queens but also the origin of Gothic art and architecture.
French history has been subject to violent change, notes Andrew, giving rise to some of the greatest art the world has ever seen. This three-part series should be a treat
Thank you for signing up to Whattowatch. You will receive a verification email shortly.
There was a problem. Please refresh the page and try again.