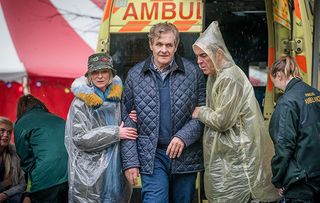 (Image credit: ITV / Big Talk)
The Cold Feet gang heads off to a music festival, where Jenny is determined to make the most of it, while Adam and Karen discover that reliving their youth has its consequences
The Cold Feet pals heads off to a music festival this week...
The gang get caught up in festival fever this week when everyone digs out their tents and glitter facepaints to go and watch Jenny (Fay Ripley) and Pete's son 'little' Adam perform with his band.
But while Jenny is desperately trying to put her cancer diagnosis to the back of her mind and enjoy the weekend, can she keep her news a secret much longer? Especially as Pete (John Thomson) is getting suspicious about her odd behaviour?
In fact, there's some pretty odd behaviour all round as Karen and 'big' Adam decide to let their hair down and re-live their hedonistic youth. And following his split from Nikki, a skint – and wonderfully naïve – David can only afford to eat some rather unusual cookies!
TV Times rating: *****
In an exclusive interview with TV Times, star Fay Ripley, 52, who plays Jenny, reveals why she was determined to get her emotional storyline just right…
Do you think that Cold Feet viewers will relate to Jenny keeping the diagnosis to herself?
I kept thinking, 'Wouldn't she tell Pete?' But I now think it's a really relatable reaction.
I know way too many women going through breast cancer and they're all different.
I like that she makes a choice that isn't everyone's experience. She's scared of saying, 'I've got cancer,' because she has always been the strong one and Pete is like a child, so she wants to put it off – but it all falls apart...
Has it been interesting playing a more vulnerable side to Jenny?
Definitely. The female voice is definitely much stronger this series. Sometimes Jenny was a support system in the storylines but I'm not shy about saying, 'Come on, guys – stuff happens to girls, too!'
It must have been tough for you filming these scenes…
Yes, but one of the hardest things for me was that my father was in hospital and later sadly died during filming, so I was shooting in hospital at work and then going to hospital. I kept thinking, 'Please can we do a nightclub scene.'
We're so sorry to hear about your dad, Fay. Were you daunted when you were told about Jenny's breast cancer storyline?
I was nervous that it would be done well. The difficulty in playing it is the responsibility.
Members of my family and close friends have breast cancer, so, sadly, I didn't need to do any research because it's all around.
I checked in with them, though.One friend is a fan of the show and I said, 'Don't watch if you don't want to,' because it's close time-wise in terms of her treatment. But she wants to see it.
This week Jenny tries to forget her troubles at a music festival…
Yes, it was a good release and I got to do let-my-hair-down stuff.
The not-fun bit was that it was raining!
My favourite thing ever, though, is when Jenny goes to a wig shop later in the series. I loved the 'Cilla' wig, but it was a bit David Bowie!
Get the latest updates, reviews and unmissable series to watch and more!
Thank you for signing up to Whattowatch. You will receive a verification email shortly.
There was a problem. Please refresh the page and try again.