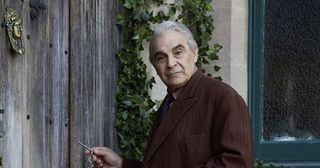 David Suchet turns up in this 'scary house' episode of Doctor Who as a mysterious man called The Landlord...
Things go bump in the night, and the day, in this Hammer Horror style adventure that's sure to leave nerves frayed and chills creeping up the strongest of spines. And if you hate creepy crawlies, then this will absolutely terrify...
Bill and her mates move into a large old house run by a mysterious 'landlord' - played by Poirot star David Suchet - who seems to weird everyone out as soon as they set foot in the place. And they're right to be wary. For their spacious bedrooms are no compensation for the terror that starts engulfing them. The gang become spooked by creaking floorboards and strange knocking sounds before being menacingly warned by the landlord that the tower at the top of the house is out of bounds.
https://youtu.be/13CUMrukNh4
One by one Bill's new flatmates begin to vanish, as she and The Doctor (who an embarrassed Bill has said is her grandfather) start to investigate. The pair come across some terrifying giant woodlice and a strange girl who appears to be made of wood. Like most of the good Doctor Who episodes, this one finishes with a brilliant twist, which Bill seems to suss first…
Get the latest updates, reviews and unmissable series to watch and more!
Thank you for signing up to Whattowatch. You will receive a verification email shortly.
There was a problem. Please refresh the page and try again.