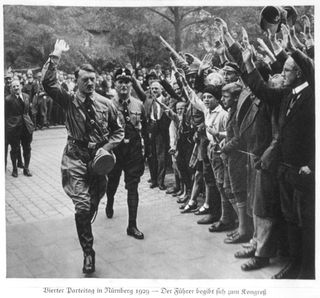 (Image credit: JT Vintage / Glasshouse Images)
The concluding part of Rise of the Nazis details Adolf Hitler's final triumph on his journey towards becoming the Führer of all Germany
Rise of the Nazis bucks a trend in modern TV. The box, it seems, loves Adolf Hitler. And so do audiences. So much so that lazy production companies and bored schedulers have been happy to deliver one makeweight TV show on the subject after another.
Dodging that ball, 72 Films and BBC Studios have given us Rise of the Nazis – combining archive footage, dramatic reconstruction and intelligent, informed comment from the likes of Baroness Helena Kennedy QC and political activist Ash Sarkar
Together, the three-part series has taken an over-familiar subject and turned it into TV that has never been less than compelling.
This final episode starts with Hitler installed as chancellor of Germany.
But, with President Hindenburg's health in bad shape, Hitler also his eye on the top job.
His problem is how to simultaneously appease the aristocratic elite and the thousands of angry young men who make up the stormtroopers.
It's partly solved by the machinations of the ruthless men surrounding him, including Himmler and Göring, and swiftly leads to "The Night of the Long Knives".
On this infamous night, any threat of opposition was crushed (people were either executed or arrested), with the result that nothing now could stand in Hitler's way…
TV Times rating: ****
Get the latest updates, reviews and unmissable series to watch and more!
Thank you for signing up to Whattowatch. You will receive a verification email shortly.
There was a problem. Please refresh the page and try again.