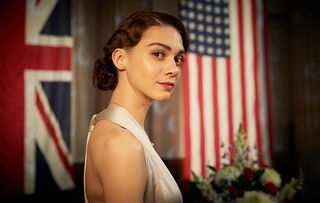 Emma Appleton and Keeley Hawes star in a spy thriller set in 1945, about a woman drawn into rooting out Soviet spies at the heart of the British government
Emma Appleton and Keeley Hawes star in spy thriller Traitors, set in 1945, about a woman drawn into rooting out Soviet spies at the heart of the British government
Keeley Hawes certainly proved her acting chops and versatility in 2018, and if her turn in this tip-top spy drama, set in 1945, is anything to go by, 2019 is going to be another brilliant year for her.
The Durrells and Bodyguard star plays mysterious, seemingly dour Cabinet Office worker Priscilla Garrick, who interviews spirited young Feef Symonds (Emma Appleton) to join the Civil Service.
But Feef's work gets complicated when she catches the eye of a determined US spy who wants her to find a Soviet mole in Whitehall, while a romance with Labour MP Hugh Fenton (Luke Treadaway) puts loyalties to the test.
An espionage thriller that will have you on the edge of your seat.
TV Times rating: *****
TV Times visited Keeley, 43, and Emma, 27, on location in north London to find out more…
Tell us about your characters…
Keeley: My daughter [Maggie, 14, with husband Matthew Macfadyen] calls her 'Priskilla'! She works as a civil servant with the Prime Minister, doing all of the nitty-gritty, so it's a stressful job, but she's very ordered and the only woman. She's not married but she's been in a relationship that she keeps private.
Emma: Feef's from an aristocratic family but wants to make something of herself and be part of history. She dreams of being a spy and wanted to be in the Special Operations Executive [Britain's wartime espionage organisation], but that's disbanded, so she enters the Civil Service. When she's approached by Rowe, it's exciting. But it's not what she's expecting.
What's Priscilla's relationship with Feef like?
Keeley: Priscilla sees herself in Feef because she's bright.
Emma: Feef wants to be her when she grows up – Priscilla is everything she admires.
Can we expect surprises?
Emma: There are twists and turns, and nothing is as it seems.
Keeley: This is one of the trickiest shows to talk about because everyone has a secret! It feels similar, spying-wise, to when I did [BBC1 drama] Spooks! But that was modern.
This period is a different place – it's a man's world.
Why is this era so fascinating?
Keeley: There's a 'marriage bar', so women must go back to looking after their husbands and homes when they've spent the war stepping up. But this era is also the start of things. The Civil Service managed to create the benefit system with no computers. It's phenomenal how they came out of the ashes.
Emma: I think it's almost more exciting that it's set after the war is over because everyone assumes they can go back to normal but Britain's in flux. It also feels topical because that special relationship with America is always changing.
Get the What to Watch Newsletter
The latest updates, reviews and unmissable series to watch and more!
TV Times Highlights Editor
As TV Times Highlights Editor I get to hear about all the latest TV shows coming soon. Here at TVT HQ we are in the privileged position of selecting the best programmes from across all the channels and streaming platforms. Our mission is to make it easier for our readers to decide what to watch - and give them lots of choice of genres - all the latest shows, plus some nostalgic choices we call hidden gems, too. My career began with a postgraduate degree in periodical journalism (ahem, yes old school!) in 1991 and I've worked in TV media since 2000.