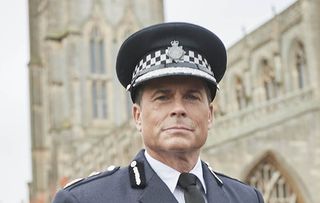 (Image credit: Matt Frost)
Hollywood star Rob Lowe is a brash top US cop trying to win over the good people of Lincolnshire in ITV's Wild Bill
Hollywood star Rob Lowe stars as a brash top US cop trying to win over the good people of Lincolnshire in ITV's Wild Bill
ITV goes a little bit Hollywood as genuine movie star Rob Lowe (pictured above) leads the cast of this new six-part crime drama.
The West Wing's Rob plays Bill Hixon, a high-flying US cop, who arrives in Boston, Lincolnshire, with his 14-year-old daughter, Kelsey, to start a new life as Chief Constable of East Lincolnshire Police Force.
Armed with stats and algorithms, Bill's first assignment sees him take on the coldest of cold cases when a decapitated head turns up in a fridge.
Also starring Rachael Stirling (The Bletchley Circle), Bodyguard's Anjli Mohindra and Harlots' Bronwyn James, this is a different take on the genre and charismatic Rob will certainly arrest viewers.
Former teen heart-throb Rob, now 55, tells us he's having the time of his life, especially with his latest role…
Tell us, just how 'wild' is Bill?
My character, Bill Hixon, is so American.
He's abrasive, direct and ambitious, he doesn't suffer fools and he always speaks his mind.
He's also prone to losing his temper, as we discover.
Yet, in his personal life, he's a widower, who's vulnerable and unsure of how to handle his teenage daughter.
It's just the two of them navigating this brave new world in Lincolnshire.
As the dad of two boys, I can relate to the 'father raising teenagers' stuff!
Is it true that Wild Bill was inspired by real-life events?
Well, a number of years ago, London almost hired an American named Bill Bratton – aka Wild Bill – to run the police force but there was huge uproar, so it didn't happen.
So we thought, 'What would it look like if an American did come here and run a police force?'
As executive producer on the series, how would you say this differs from other police procedural dramas around?
This is more of a character study dressed up as a procedural in that the cases only exist to further Bill's journey.
Every case relates to something Bill needs to learn or fight through in his own life.
This is a serious show but it's also quite weird – and not afraid of being funny in among the weirdness.
Are you enjoying working again here in the UK?
I love it.
I worked here for the first time when I was about 19 on the movie Oxford Blues.
And I did A Few Good Men with [The West Wing writer] Aaron Sorkin at the Theatre Royal Haymarket in 2005.
When I was at the height of my 'teen idol-dom', I couldn't go anywhere without people going crazy, but it wouldn't be like that in the UK.
Then someone said to me, 'The British take a long time to accept someone. But, when they do, it's for life!'
And I've certainly found that to be true.
Do you look back on your 'teen idol-dom' with fond memories?
I do.
There's a lot of stuff that was really complicated and parts of it I wouldn't wish on anybody.
I look at my son now, turning 18, and think, 'Okay, now give him money and worldwide fame and see how he handles it.'
He can just about handle living life as it is!
But when you go through an adventure where lots of it's good and lots of it's not so good, with perspective and time, you can look back and go, 'You know what? Not a lot of people get to do that.'
It's a journey only two or three people a decade get to go on.
TV Times rating: ****
Get the What to Watch Newsletter
The latest updates, reviews and unmissable series to watch and more!