Acorn TV — new and exclusive shows from Britain and beyond
Acorn TV brings you world class TV from the UK and around the world.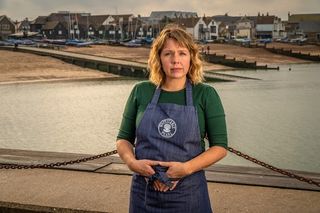 (Image credit: Acorn TV)
Premiering this May, Whitstable Pearl stars Kerry Godliman as Pearl, a copper turned restaurant-owner turned detective who fishes her first murder mystery right out of the sea in this darkly comic, character-driven crime series.
Whether it's an exclusive original drama you're looking to get your teeth into, a critically acclaimed show or timeless classic, Acorn TV has got it all. 
The streaming service has new shows from the UK and around the world alongside long running series that we all know and love. And best of all — it's advert free and there are no contracts. Acorn TV is also offering a 30 day free trial, plus it's only £4.99 per month thereafter. 
Watch TVs biggest stars such as Glenda Jackson in a BAFTA award-winning performance in Elizabeth is Missing, Ashley Jensen in the much-loved Agatha Raisin, and John Malkovich in Agatha Christie's The ABC Murders. 
There are also exclusive new binge-worthy dramas on offer like Acorn Original Queens of Mystery, set in the gorgeous Kent countryside, while Victorian Dublin offers the backdrop for Dead Still. 
From further afield there are The Sounds and One Lane Bridge which are both set in New Zealand, while hit political drama Total Control is set in Australia. Acorn TV also has Bäckström from Sweden, Balthazar from France and the Italian A Family Tale from the creators of My Brilliant Friend.
To sign up, visit www.acorn.tv or download the Acorn TV app on your favourite device to start your 30 day free trial.
Here are just a few of our favourite binge-worthy boxsets on Acorn... 
One Lane Bridge 
One Lane Bridge is a dark crime thriller which reveals a supernatural edge when a local man's body is found at the bottom of a one lane bridge that has long been the centre of numerous unexplained events. As the investigation team get to work to solve the mysterious death, an ambitious Māori detective inadvertently awakens his second sight, helping the case but inadvertently landing himself in grave danger at the same time. 
Number of seasons: 1
Number of episodes: 6
The Sounds 
When Maggie and Tom move to the beautiful Marlborough Sounds in New Zealand for a fresh start, they feel they can achieve anything. But when Tom mysteriously vanishes, buried secrets and family plots make Maggie realise their new-found paradise is far from perfect. Can Maggie find out what really happened to her husband the fateful day he disappeared? The Sounds is a compelling crime thriller which twists and turns its way to a stunning conclusion.
Number of seasons: 1
Number of episodes: 8
Dead Still 
This Acorn original, set in Victorian Ireland, follows Brock Blennerhasset as he makes a living out of photographing the dead during the fascinating historical period of postmortem photography. As a spate of murders threatens his reputation, Blennerhasset finds himself drawn into an underworld of crime in Dublin. But it isn't all darkness and death, this comedy also has a macabre humour running throughout.  
Number of seasons: 1
Number of episodes: 7
Queens of Mystery 
Starring Olivia Vinall, Julie Graham. Siobhan Redmond and Sarah Woodward, Queens of Mystery is a modern day murder mystery series which sees a young policewoman's investigations both aided — and interrupted — by her three crime-writing aunts as they fight to solve murders in a sleepy English village. But can the unlikely gang work out the most puzzling of mysteries? 
Number of seasons: 1
Number of episodes: 6
Bäckström
Arrogant and self-assured murder detective Evert Bäckström is faced with his toughest case yet when a woman's skull, pierced with bullet holes, is found on an uninhabited island. The plot thickens when it seems she was murdered recently, yet DNA suggests her death occurred during the 2004 tsunami. Can Bäckström solve the case of the woman who appears to have died twice? 
Number of seasons: 1
Number of episodes: 6
Total Control 
Deemed to be the political thriller of the year, Total Control follows Indigenous Australian Alex Irving as she finds herself at the centre of a media frenzy after walking into a court one day and confronting a domestic abuser wielding a gun. After staying calm and saving the day, Alex's heroic actions soon go viral, catching the attention of cunning Australian Prime Minister, Rachel Anderson. Soon Alex finds herself thrust into the political limelight as Total Control delves into racial corruption at the heart of the Australian government. 
Number of seasons: 1
Number of episodes: 6
Agatha Raisin 
Based on the best selling series of books by M.C. Beaton, Agatha Raisin finds her idealistic early retirement to a picturesque village shattered when she is accused of a crime shortly after arriving. Agatha, played by Ashley Jensen, soon finds herself a new lease of life as an amateur detective, determined to prove her own innocence and solve countless murders in the quaint Cotswolds village. 
Number of seasons: 3
Number of episodes: 21
Whitstable Pearl
Local restaurant owner Pearl Nolan (Kerry Godliman) spends most of her days serving up her seafood specialities in the beautiful English seaside town of Whitstable. But her passion for solving mysteries sees her setting up a local detective agency after training with the police in an earlier career. She soon finds herself thrown in at the deep end when she discovers the body of her close friend, Vinny. Soon a second body is found and Pearl finds herself solving murder cases brought in by the tide. 
Whitstable Pearl launches on Acorn TV in the UK and the US on Monday May 24. Catch the first two episodes of the six-parter then, and afterwards it will run weekly through to Monday June 21.
Number of seasons: 1
Number of episodes: 6
Balthazar
Raphaël Balthazar is suave, smart and one of the most renowned forensic pathologists in Paris... but despite spending his time solving the city's most grisly crimes with his no nonsense chief inspector Hélène Bach, there is still one unsolved crime that haunts him — the murder of his wife more than a decade ago. 
Number of seasons: 2
Number of episodes: 16
Get the latest updates, reviews and unmissable series to watch and more!
Thank you for signing up to Whattowatch. You will receive a verification email shortly.
There was a problem. Please refresh the page and try again.