Big Sky season 3 episode 12 recap: the Bleeding Heart Killer isn't going down without a fight
The first of Big Sky season 3's two-part finale.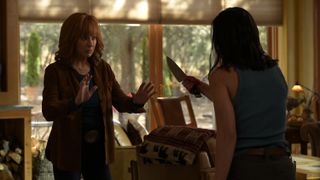 (Image credit: ABC/Anna Kooris)
NOTE: this post contains spoilers for Big Sky season 3 episode 12, "Are You Mad."
Big Sky season 3 is capping things with a two part season finale, and it got started with a bang.
The episode opens with Sunny (Reba McEntire) going to the house to look for Buck (Rex Linn). But instead of Buck she finds a bloody and injured Paige (Madalyn Horcher), who threatens her with a knife. Paige tells Sunny Buck tortured and tried to kill her and she thinks Sunny set her up. As Sunny and Paige are facing off, Cassie (Kylie Bunbry) and Hoyt (Katheryn Winnick) burst in with weapons drawn. They defuse the situation and take Sunny to the police station and Paige to the hospital.
Sunny is losing everything
It's unclear if Sunny knew anything about Buck being the Bleeding Heart Killer, but she seems as surprised as everyone else. Arlen (Jensen Ackles) questions her at the station, trying to find out where Buck's murder bunker is but she doesn't know. She does tell Arlen to release Walter (Seth Gabel) now that they know Paige is alive.
Sunny picks Walter up when is released. He doesn't want to go with her because Buck hurt Paige, but he eventually gives in. Sunny wants to take him to Lethbridge to start over, but Walter refuses. He tells Sunny that Buck was there when Blaire Lucan was killed. He asks if she knew about Buck. Sunny says she didn't, but Walter doesn't believe her. Saying he doesn't need her, Walter leaves on his own.
Cormac (Luke Mithcell) is also reeling from the reveal of Buck as the Bleeding Heart Killer and trying to come to terms with the fact Walter is his brother. Sunny is watching all her lies and schemes bring about the exact situation she was trying to prevent as she loses her most important relationships all at once.
Paige is still a target
In the hospital, Paige is questioned by Arlen about where Buck took her. She says Buck had human hearts in jars labeled with names. She describes the horrors of the murder bunker and said that she killed Buck to escape.
She didn't actually kill Buck, though, and when she realizes Buck is still out there she is scared. Walter comes to see her after he leaves Sunny's and Paige is relieved to see him. Walter tells her he'll take care of Buck so Paige won't have a reason to be afraid anymore. If anyone can find Buck and deal with him once and for all, it's probably Walter.
Buck escapes the bunker
Cassie, Arlen and Hoyt find the murder bunker, but only after a lot of searching and figuring out that it must be near some of the bleeding hearts that were carved into trees, using those as a map. Once they get to the bunker, it's empty. There are signs of a struggle but no signs of Buck. There are also jars containing the hearts of all the Bleeding Heart Killers' victims, including Blaire Lucan's.
Buck, who was seriously injured, managed to get himself out into the woods. He collapsed in a clearing where he was found by a hunter and his dog. While the hunter tries to help him, Buck kills him by breaking his neck, then takes his car. Buck manages to drive to a convenient store where he steals a hat and some super glue to take care of his wounds.
Carla confronts a threat
Lyle Lovett is back in this episode as Tex, who is following Carla (Angelique Cabral). But she surprises him by confronting him. Carla tells him her next stop is the police station where her ex-husband is the sheriff. Tex backs off and leaves.
When she tells Arlen about the encounter she's clearly worried. Arlen and Carla try to reach Emily (Cree Cicchino) to warn her and make sure she's safe, but they get a voicemail instead. Emily and Denise (Dedee Pfeiffer) were kidnapped from the detective agency office.
Deals go wrong
Avery (Henry Ian Cusick) has a meeting with Mr. Tony (West Liang) to give him the money, but he's planning on keeping the money and splitting it with Tonya (Jamie-Lynn Sigler) and Donno (Ryan O'Nan).
Plans change when Arlen shows up with Avery at the Blue Fox. He tells Tonya the meeting must go forward so they can get Emily and Denise back. But he promises Tonya and Donno they won't be arrested because of their involvement. Avery tells them they can have all the money. They agree.
Mr. Tony isn't alone at the meeting. He's brought Tex and hitmen the Toronto Triplets as backup. However, Tex quits after finding out Emily is missing because he draws the line at harming kids. Avery shows Mr. Tony the money and demands to know where Emily is. Tony shoots Avery. That sets off a chain reaction. Tonya shoots Mr. Tony and Donno has a gunfight with the Triplets. Donno wins the gunfight, but he's hit. Donno is bleeding out fast.
Just before Mr. Tony dies, Arlen demands to know where Emily is. Tony says he doesn't have Emily and Denise.
Instead, Buck is the one who kidnapped them. They are gagged and tied up in the car he stole. As he's driving he calls Sunny and asks her, "Are you mad?"
Next week's season finale is the showdown that's been coming all season. Arlen, Hoyt and Cassie will face off with the Bleeding Heart Killer, but will Buck claim more victims before he is defeated?
Catch up with Big Sky season 3 episodes on Hulu.
Big Sky season 3 recaps
Get the latest updates, reviews and unmissable series to watch and more!
Sonya has been writing professionally for more than a decade and has degrees in New Media and Philosophy. Her work has appeared in a diverse array of sites including ReGen, The Washington Post, Culturess, Undead Walking and Final Girl. As a lifelong nerd she loves sci-fi, fantasy and horror TV and movies, as well as cultural documentaries. She is particularly interested in representation of marginalized groups in nerd culture and writes reviews and analysis with an intersectional POV. Some of her favorite shows include Game of Thrones, The Walking Dead, The Handmaid's Tale and The Sandman.
Thank you for signing up to Whattowatch. You will receive a verification email shortly.
There was a problem. Please refresh the page and try again.