David Ames on his guest role in The Madame Blanc Mysteries: 'Sally Lindsay wrote the part for me!'
David Ames swaps Holby City for Sainte Victoire as he plays a honeymooning visitor.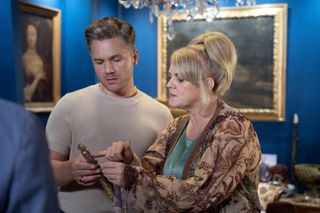 (Image credit: Channel 5)
David Ames and Les Dennis pay a visit to the sun-drenched village of Sainte Victoire in Channel 5's The Madame Blanc Mysteries season 2 as honeymooning couple George and David.
David (played by Les) is an old friend of Jean's (Sally Lindsay) and a fellow antiques dealer, and he's bringing his new husband George (played by David) to meet Jean as the pair enjoy a honeymoon jaunt around the south of France. But the pair are blighted by bad luck on their trip, from damaged luggage to a near-miss with a mugger — and Jean's business partner Charlie (Sanchia McCormack) informs them that a rare set of playing cards they were gifted anonymously on their big day is believed to hold a terrible curse!
We caught up with David Ames to find out more about his stint on the show...
David Ames interview for The Madame Blanc Mysteries
What can you tell us about David and George?
"George has come into David's life very quickly, and has made a huge impression on him. They end up getting married, and it's marital bliss as far as David is concerned. George seems like a young, confident guy who has found the love of his life."
What was it about this part that appealed to you?
"It was wonderful, Sally Lindsay [who created and co-writes the series as well as starring as Jean White] wrote the part with myself in mind, which is always really lovely. Obviously you're never guaranteed with these things, but she said she had me in mind and it just worked out that way. Being able to work with Sally — and Sue [Vincent, who co-writes the show with Sally and plays Gloria], Steve [Edge, who plays Dom] and Les and everyone else I worked alongside — has been an absolute joy."
How did you find having Les Dennis as your on-screen husband?
"Oh do you know what, Les was a joy! It was really lovely to work alongside him, he's someone I have watched on my television for years! It's really interesting — in my head, I see him and I see Family Fortunes, or him doing impressions of Mavis from Coronation Street, that's the Les I grew up with. But he's become a real consummate actor now, and he's just not stopped working, which is incredible, from Hairspray to working for the English National Opera at the Coliseum in London, and now he's in the Only Fools And Horses musical. He doesn't stop, he's an incredible whirlwind of talent!"
The series is filmed on the Maltese island of Gozo. Did you have fun there?
"Oh, it was just stunning. The heat, I have to say, was incredible — it was during the time of the heatwaves here in the summer, but filming in 40-degree heat was something else! We were filming on the cliffside for the big finale moment, and we had these umbrellas in front of myself and Les blocking the sun out, and then as soon as you pulled the umbrellas away and yelled 'action!', you were sweating already — it was sort of mixing your make-up into a paste in your eyes!
"It was quite interesting, we had a sort of time limit and then we'd go back and all sit in a trailer where there was an air-conditioning unit so we could cool off, because otherwise we were just going to start sweating through our clothes, and then it's an issue for costume! But Gozo itself is absolutely gorgeous, and after a day's work, we'd all go back to go over our lines and possibly go out and have a little bite to eat together and a glass of wine. It was really lovely — it felt like a holiday camp!"
Are you a fan of mystery dramas as a viewer?
"I'm a mixed person when it comes to TV: I watch a lot of property programmes and Escape To The Chateau or 24 Hours In A&E — I tend to watch a lot of More4! My favourite show to watch on a Sunday if I've got a slight hangover or something is Four In A Bed.
"But I do love a bit of a mystery, I find it quite cosy — shows like Madame Blanc and Death In Paradise are just so lovely, and you end up seeing actors that you might not have seen in a little while and you go 'oh yay, them! I like them!' and it's so comforting. It's just always a joy to watch — they're always brilliantly done, well-written and brilliantly acted with firm favourites of television!"
David guest stars in The Madame Blanc Mysteries on Thursday, January 26 on Channel 5 at 9pm in the UK
Get the What to Watch Newsletter
The latest updates, reviews and unmissable series to watch and more!
Staff Writer for TV & Satellite Week, TV Times, What's On TV and whattowatch.com
Steven Perkins is a Staff Writer for TV & Satellite Week, TV Times, What's On TV and whattowatch.com (opens in new tab), who has been writing about TV professionally since 2008. He was previously the TV Editor for Inside Soap before taking up his current role in 2020. He loves everything from gritty dramas to docusoaps about airports and thinks about the Eurovision Song Contest all year round.