Every post-Trebek Jeopardy! guest host, ranked
Who is the best Jeopardy! guest host, and why is it LeVar Burton?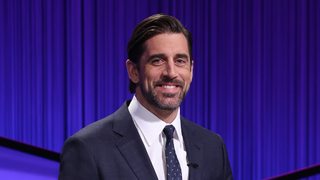 (Image credit: Sony Pictures Studios)
Nobody can replace Alex Trebek. The legend hosted Jeopardy! from 1984 until his death in 2020, and it simply can't be done. It won't be done. And, frankly, nobody's trying.
But the show must go on. In January 2021, just a couple months after Trebek died from pancreatic cancer, the first round of guest hosts began. This isn't just ratings. It's also about honoring Trebek — and it's about raising money for charity. During guest hosting stints, Jeopardy! matched the cumulative total of the contestants and donated to the charity of the host's choice.
There were a number of guest hosts who take their shot behind the podium and because this is the internet, we have to rank them.
The syndicated Jeopardy! is on different times and channels, depending on where you live. You can find your local channel and time here.
David Faber: Aug. 2-6
Joe Buck: Aug. 9-13
And with that, the best post-Trebek Jeopardy! guest hosts, ranked:
1. LeVar Burton, actor, reader
Look, there was never any chance that LeVar Burton wasn't going to be atop this list just as soon as his first episode aired. He was the favorite long before the other guest hosts were announced. And he did a masterful job of making sure the bar wasn't lowered, but stayed right where it should be.
His wife said (opens in new tab) his first day maybe wasn't his best. But as anyone who's married knows, our wives maybe understand us a little too well. Burton's first day was just fine. Better than most. There were a few awkward pauses, sure. But better not to blow 'em all away first thing, right?
His second day? Definitely a little better. And that just makes us even more certain in our decision to place him at the top of our list. Everything was a little tighter and a little more fun.
Burton is the best Jeopardy! guest host. Hands down.
But you don't have to take my word for it.
2. Dr. Sanjay Gupta, neurosurgeon/CNN correspondent
CNN's Dr. Sanjay Gupta brought control of the game, a love for knowledge and just a little dynamism to the lectern.
Gupta is a neurosurgeon — perhaps there's something about being a brain specialist that gets him and Mayim Bialik a leg up — and chief medical correspondent on CNN. So he's used to learning. He's used to teaching. He's used to explaining. And also like Bialik, he's used to appearing on camera.
Gupta brings the same ease to the game that he brings to his medical coverage on CNN. It's approachable, but matter-of-fact. And it's very, very good.
3. Robin Roberts, newscaster
There's something about Robin Roberts that just makes you feel good. Whether it's part of Good Morning America or through any of her numerous sports broadcasts over the years, having spent 15 at ESPN.
That all came through during her stint on Jeopardy!. And you can't help but think that her own battle with cancer plays a part her time on the show that paid tribute to longtime host Alex Trebek week after week.
Roberts could be at the top of our list. (We could honestly make an argument for any of the top six guests hosts.) But she's maybe just a smidge below Gupta. There's definitely no shame in that.
4. Mayim Bialik, neuroscientist/actress
Rare is the actor whose work manages to span decades and generations. Rarer still is one who also has a Ph.D. in neuroscience. And even more rare is one who is able to take all of those traits and turn them into a winning combination as guest host of Jeopardy!. But Mayim Bialik is precisely that badass.
She first came to fame in the late 1980s and into the '90s on a number of series before settling in as the title character on NBC's Blossom from 1990-95. Voice work followed and she ended up back in front of the camera in the mid-2000s before spending eight-plus seasons as Amy Farrah Fowler on The Big Bang Theory.
All that ties together in what is an extremely compelling stint as guest host. (And one of the last to have a two-week run.) She's conversational without being too casual. She's knowledgable and doesn't sound like she's just reading the prompter — which is exactly what you'd hope to get from an actress/scientist.
NOTE: Bialik has named one of the permanent hosts of Jeopardy!
5. Anderson Cooper, journalist
Those of us of a certain age and nighttime persuasion may remember back when Anderson Cooper was helming the overnight desk for ABC News, sometime around 2 or 3 am, depending on your time zone. Today, he's best known for being a badass journalist and A father. (And a Vanderbilt, too, lest we forget.)
And as you'll see in our other entries, time spent talking on TV proved to be extremely beneficial in the battle for Jeopardy! guest host supremacy. Cooper's got just the right amount of swagger. He's got just the right amount of humility. And he's got the perfectly grayed hair.
He's also been giving folks the facts for decades. That's why he's a natural here.
6. Bill Whitaker, journalist
Bill Whitaker, the longtime 60 Minutes correspondent, has been a huge Jeopardy! fan and it shows. Maybe not always in the best way possible — he's a tad stiff and definitely was still getting her bearings in his first outing, but you saw it there. Not just passion for being on TV, but passion for the game itself.
Whitaker's delivery is still a little more straight-laced than Cooper's and that's not all that surprising. They're both TV journalists, but on very different shows. So that's not a knock, per se — but it does affect the delivery.
Whitaker's good. Really good. Cooper's just a little better.
7. Savannah Guthrie
Look, you don't become a co-host of NBC's Today show without being a few things. One of those is being good at TV. That's important. Another is being fun. Because nobody wants to flip on the TV and have their day dragged down from the drop.
That's what makes Guthrie a perfect fit for Jeopardy!. She also has a law degree, which is the sort of thing that can help you in so many facets of life. (Remember that, you college-bound kids!).
8. David Faber (journalist)
There's something just a little too perfect about David Faber. The CNBC host was just fine as a guest host. Better than average, even.
But there's just something a little too put-together about him. Maybe it's the hair and that's not fair. But it's still a thing. Or maybe it's just that there's nothing all that distinguishable about him. He could be Mike Richards if you didn't know any better.
Faber was good. Really good, even. Just not quite great.
9. George Stephanopoulos
You don't go from being the campaign and White House communications director for President Bill Clinton and then to ABC News without being a pretty darn good communicator. Such is the trajectory of the one and only George Stephanopoulos.
There's absolutely nothing offensive about Stephanopoulos. He handled the questions and contestants with ease and you can tell he's done his homework. And maybe that's the trouble. You can tell he's a guy doing a job. And while he's definitely leaps and bounds better at the lectern than every one who comes below him on this list, he's also a good big detached from everyone above him. He's watchable, but also pretty white bread.
10. Dr. Mehmet Oz, TV doctor
You've got to admit it, even critics of "Dr. Oz" — whose appearances on television all too often struggled with the science and medicine parts of being a doctor — thought he did a pretty darn good job as Jeopardy! host. And why not? He's a really good TV host. Since all the questions and answers were there and laid out by someone else, there probably wasn't too much room for him to get out over his skis.
You'd expect someone with 10 Daytime Emmy Award to be able to hold his own on a TV show, and Oz did so with his two-week run.
That doesn't change the fact that dude is problematic AF.
11. Mike Richards, executive producer for Jeopardy! and Wheel of Fortune
Mike Richards was the second guest host and was a longtime producer of TV game shows, also serving on The Price is Right and Let's Make a Deal. He's earned 17 Emmy nominations and won three for his work. He's also hosted five series — a pair of reality shows (including Beauty and the Geek), a news program and two game shows, including the Game Show Network's Pyramid.
And it showed. Richards was a welcome change from the opening of the Year of Guest Hosts, Ken Jennings. He brought some personality and dynamics that otherwise had been missing from the opening seven weeks.
11. Katie Couric, journalist and author
Katie Couric has seen it all. She's been there. Done that. Interviewed everyone. And a Jeopardy! spot just sort of made sense. "Of course she'll be great! She's Katie Couric!"
And she was just ... OK. Nothing particularly wrong with her performance, but it felt like just that — a performance. She was reading what she was there to read, and speeding her way through it.
That's a bit of a knock, sure. But you also have to believe that the opportunity to host meant something a little more to Couric, who lost husband Jay Monahan to cancer in 1998, when he was just 42.
13. Aaron Rodgers, future NFL Hall of Famer
Aaron Rodgers was one of the guest hosts everyone was eager to see — in no small part because he was extremely eager to have the gig. Not just because he's a big Jeopardy! nerd, but because of all the money his appearance was going to raise for charity. Rodgers was extremely generous in giving thanks to everyone who helped make it happen. In the end, more than $236,000 was raised.
"As a lifelong fan of Jeopardy! it is an incredible honor to guest host," Rodgers in his first episode. "Now, I've had the opportunity to do a lot of amazing things, but winning Celebrity Jeopardy! and getting to share the stage with the legend Alex Trebek is something I will never forget."
Unfortunately, earnestness and eagerness only gets you so far. Once the novelty of Rodgers wore off and you take a real look at his performance on the show, it was more flat than a pass at Lambeau Field in minus-20-degree weather and 50-mph winds. It just didn't gel. He didn't leave it all out of the field. Pick your sports cliche.
And the Packers still shouldn't have kicked that field goal.
What an amazing 2 weeks for me living out a dream, guest hosting @Jeopardy. I am deeply grateful to the staff, crew, and contestants on @jeopardy for making my time so memorable. And on top of the incredible experience, they are donating $236,725 to the @NVCF ❤️❤️ 🙏🏻 #solong ❤️ pic.twitter.com/gw064rvGeDApril 16, 2021
14. Ken Jennings, former Jeopardy! champion
Ken Jennings is famous for having the longest winning streak in the show's history, with 74 straight wins for $2.52 million, and infamous for having an occasionally problematic Twitter feed.
He was an obvious choice for the first guest host after Trebek's death and has worked for Jeopardy! as a segment producer since 2020.
But his on-screen presence was pretty milquetoast. Though, to be fair, Jennings was in an impossible position and it undoubtedly was an emotional one for him personally, never mind professionally. (And certainly never mind that hosting Jeopardy! is no small feat.)
Jennings had really big shoes to fill, but things are completely different when you're the one giving the answers.
NOTE: Jennings is now one of the permanent Jeopardy! hosts.
15. Joe Buck (sports broadcaster)
Jeopardy! fans have learned what sports fans have known for years. Joe Buck is really good at his job and also simultaneously extremely annoying.
Phil spent his 20s in the newsroom of the Pensacola (Fla.) News Journal, his 30s on the road for AndroidCentral.com and Mobile Nations and is the Dad part of Modern Dad.
Thank you for signing up to Whattowatch. You will receive a verification email shortly.
There was a problem. Please refresh the page and try again.