Fact vs Fiction: Godfather of Harlem season 3 episode 7 — were there plots to kill Malcolm X?
Plus, did J. Edgar Hoover like to wear dresses?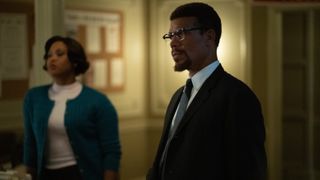 (Image credit: Metro-Goldwyn-Mayer Studios Inc.)
As with many of the episodes in Godfather of Harlem season 3, episode 7 was heavily rooted in the story of Malcolm X (Jason Alan Carvell). Much of his arch has been dedicated to the CIA and FBI's concentrated efforts to gather info on the civil rights leader, while sabotaging his efforts to rally people behind his cause.
However, in episode 7, appropriately titled "All Roads Lead to Malcolm," fans were reminded he was also very much at odds with Elijah Muhammad and his followers, with a threat against Malcolm X emerging from Mosque No. 25 out of Newark, N.J. Is that plotline based in fact?
On another, unrelated note, viewers also heard mention of the notorious head of the FBI, J. Edgar Hoover, wearing dresses. We had to get to the bottom of that given his very controversial viewpoints and actions during his tenure as a leading government official.
Here's what we found out.
Were there plots to kill Malcolm X?
The fiction
Since his reemergence on the Godfather of Harlem, viewers have been trying to determine the true intentions of Brother Omar (Maurice Jones). Last season he was knee-deep in a plot to kill Malcolm X that was foiled because Bumpy Johnson (Forest Whitaker) stepped in. Now in season 3, the would-be assassin has been seemingly groveling to earn both Malcolm X's and Elise's (Antoinette Crowe-Legacy) forgiveness.
Then in episode 7, Brother Omar met with a leader from his former mosque who was a firm opponent of Malcolm X. As the two talked, he made it appear that while his murder plot failed, he was still committed to destroying the public figure. She in turn told him that the local mosque was no longer planning to do anything to Malcolm X, but she heard rumblings about plans being formed at Mosque No. 25 in Newark.
With that information, Brother Omar met with an official from the New Jersey-based mosque and volunteered to help with any ideas they have to take out Malcolm X. The official told Brother Omar that if he wants to help, he can provide intel.
Later, Brother Omar is with Malcolm X and Elise in the civil rights leader's office. The former notified them they ought to be more concerned about Malcolm X's safety as the threats against him are very real and serious. Furthermore, Brother Omar found a bug in his office. Impressed by his apparent commitment to help protect Malcolm X, the minister offered Brother Omar a job as head of security.
Given Brother Omar's history and his very convincing performance with the person from Mosque No. 25, we aren't quite certain whose side he's really on.
The fact
As reported in Time (opens in new tab), in 1964, Malcolm X had officially split from Elijah Muhammad and the Nation of Islam, and the two sides weren't on friendly terms at all. Many of Muhammad's followers viewed Malcolm X as a traitor to the Nation and had become enemy number one. Unfortunately, that resulted in him and his family receiving several threats, and a few murder plots being developed.
For example, Malcolm X reported in The Autobiography of Malcolm X: As Told to Alex Haley (opens in new tab) that he was informed by a member of his former temple that this individual was ordered to place a car bomb in Malcolm X's car. Additionally, now that the FBI has released some information about their surveillance of Malcolm X, it's public knowledge that he and his wife were constantly receiving threats via phone calls (although, the originator of those threats was not always clear).
Additionally, the activist in general believed members of the Nation of Islam were out to kill him, as noted by Alex Haley (opens in new tab).
Then in 1965, a week before his death, Malcolm X's home was bombed and caught on fire, according to The New York Times (opens in new tab). While those responsible were never found and prosecuted, again according to the publication (opens in new tab), at the time of the incident, he was engaged in a nasty court battle with the Nation of Islam over the home as the organization owned it and was trying to evict him, while he was fighting to stay put.
As it pertains to Mosque No. 25 out of Newark, one of the three men who were ultimately convicted of Malcolm X's assassination was an active member of that mosque. As heavily discussed in the Netflix documentary Who Killed Malcolm X, convicted murderer Thomas Hagan worked with others from that mosque to take Malcolm X's life in February 1965.
Now in terms of Hagans real co-conspirators, that information has not legally been determined. However, Muhammad Abdul Aziz and Khalil Islam, the other two men originally convicted of Malcolm X's murder, were later exonerated for the crime. In fact, they actually belonged to the leader's former Mosque No. 7 out of New York in the 1960s.
Are there pictures of FBI Director J. Edgar Hoover wearing dresses?
The fiction
While the moment was brief, when "Wild" Bill Harvey (Joel Marsh Garland) paid a visit to the FBI to warn them to back off from compromising the CIA's investigation into Malcolm X, Harvey leveled the threat that if they didn't, he'd expose photos of FBI Director J. Edgar Hoover in a dress. It was an offhanded remark that Harvey seemed rather confident in making.
Over the years, many accusations have been made against the infamous FBI leader in real life, but was this mention of a dress rooted in truth?
The fact
This is one of those things that boils down to who you choose to believe. According to Anthony Summers and his New York Times bestselling book Official and Confidential: The Secret Life of J. Edgar Hoover (opens in new tab), Hoover did have a tendency to wear dresses, although no photos of that have ever been produced. However, credible historians later dismissed such a claim when talking with The Washington Post (opens in new tab).
The Godfather of Harlem airs new episodes Sundays on MGM Plus.
More Godfather of Harlem stories
Get the What to Watch Newsletter
The latest updates, reviews and unmissable series to watch and more!
Terrell Smith has a diverse writing background having penned material for a wide array of clients including the federal government and Bravo television personalities. When he's not writing as Terrell, he's writing under his pseudonym Tavion Scott, creating scripts for his audio drama podcasts. Terrell is a huge fan of great storytelling when it comes to television and film. Some of his favorite shows include The Crown, WandaVision, Abbot Elementary and Godfather of Harlem. And a fun fact is he's completely dialed into the TLC 90 Day Fiancé universe.