Fact vs Fiction: Godfather of Harlem season 3 episode 6 — who is Wild Bill Harvey?
Plus, what is Operation Mongoose and how does it involve Fidel Castro?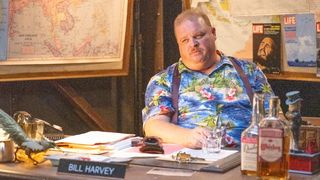 (Image credit: Metro-Goldwyn-Mayer Studios Inc.)
In Godfather of Harlem season 3 episode 6, viewers were introduced to a brash CIA agent referred to as "Wild" Bill Harvey (Joel Marsh Garland). He carried himself as a man always in charge, who gets what he wants and has no problem crossing boundaries in order to achieve his mission. As big of a personality as he is, he didn't intimidate Bumpy Johnson (Forest Whitaker), who refused to cower to the federal agent. With such a first impression, viewers naturally have questions about the real Wild Bill Harvey.
Along those same lines, there's a moment when Johnson is finding out information about Harvey's involvement in something called Operation Mongoose. From what the audience gathered from the episode, the initiative was a series of assassination attempts against former Cuban leader Fidel Castro. However, did such an operation exist?
Here's what we found out.
Who is Wild Bill Harvey?
The fiction
Johnson and Jose Battle (Yul Vázquez) have been effectively cut out of the new shipment of heroin unless Johnson goes to Joe Colombo (Michael Raymond-James) hat in hand and agrees to a terrible deal. In episode 6, Battle is approached by Colombo with a new offer to partner up without the Harlem kingpin, but the former refused to turn his back on Johnson.
Without a steady supply of heroin, Johnson and Battle agreed they should try to sell cocaine. There's just one problem: getting large quantities of cocaine was nearly impossible. That is until Battle suggested they use his contact with the CIA. Enter Harvey.
Harvey and Battle worked together in an effort to get rid of Fidel Castro in Cuba. As they all sat down to talk about the idea of the CIA supplying the underworld bosses with cocaine, Harvey agreed to do it in exchange for a cut of the profits and for info on Malcolm X (Jason Alan Carvell). The federal officer specifically wanted to know what happened during Malcolm X's trip to Africa and who he met with.
Unsurprisingly, Johnson wasn't keen on the idea of betraying a good friend, and sought another way to get Harvey to agree to sell. That's when the Godfather of Harlem went digging for information.
The fact
William King Harvey garnered quite the reputation in federal law enforcement circles. According to a biography titled Flawed Patriot: The Rise and Fall of CIA Legend Bill Harvey (opens in new tab) written by Baayard Stockton, prior to Harvey's stint with the CIA, he was first an employee with the FBI. While with the bureau, he was known for working 18-hour workdays and placing his personal life second. Furthermore, the book asserts that as an FBI agent Harvey "appeared to exist on cigarettes and, latterly, martinis."
There's a bit of controversy surrounding his departure from the agency, according to Stockton. In the summer of 1947, Harvey resigned after then FBI director J. Edgar Hoover attempted to punish him for violating bureau protocols and not being on-call during his particular assigned shift. (He was attending an event where alcohol was served and Harvey was seen at the very least "consuming two beers," but Stockton in the book alleges some noted that Harvey and other guests in attendance had gotten drunk.)
Once Harvey left the FBI he went to the CIA. There, Harvey helped run counterintelligence operations in Germany during the Cold War against the Soviets. One high-profile accomplishment was successfully tapping Soviet phone lines via a tunnel into East Berlin.
According to a Washington Post (opens in new tab) news story from 1976, after a meeting with then-president John F. Kennedy in the early '60s, Harvey was put in charge of the CIA's Task Force W. As section leader, he "directed intelligence gathering missions, propaganda activities, paramilitary operations and sabotage raids against Cuba as part of a carefully orchestrated administration effort to overthrow Castro."
Harvey's campaign against the Cuban leader would become to be known as Operation Mongoose.
What is Operation Mongoose?
The fiction
To avoid having to betray Malcolm X to get cocaine from Harvey, Johnson met with an old acquaintance.
While sitting down with Carlo Gambino of the New York Italian Mafia, Johnson asked him about the mafia's dealings with the CIA and the attempts to undermine Castro, as he wanted to know what he was getting into with the CIA. Gambino asked who Johnson's CIA contact was. Hearing that it was Wild Bill Harvey, Gambino needed to started pouring out information.
The leader of the crime family talked about Harvey's incessant desire to kill Castro, and even made mention of attempts involving a poisoned wetsuit and an exploding cigar. However, did the CIA really go to such lengths?
The fact
Harvey did oversee Operation Mongoose. As mentioned in The Atlantic (opens in new tab), "He had been assigned by the White House to run a program known as ZRRIFLE that tried to use mobsters to bump off the Cuban dictator."
Additionally, as stated in NBC news (opens in new tab), the CIA didn't just use mob connections to dispose of Castro, but a number of operatives. Furthermore, some of the plans concocted to get rid of the Cuban leader were "bizarre."
For example, the CIA reportedly did sanction a box of Castro's favorite cigars to be poisoned with a botulinum toxin, strong enough to kill him once he put one of the cigars in his mouth. However, it's unclear whether or not he received the actual cigars and smoked one, or he somehow received an anecdote.
There was also a plan to contaminate one of Castro's diving suits with a "fungus that would produce a chronic and debilitating skin disease." This idea was only foiled after the person who was supposed to give Castro the suit gave him a different one instead.
By the way, if you're wondering about the whole "poisoned ice cream" scenario mentioned in the Godfather Harlem episode, according again to The Atlantic (opens in new tab), it's true.
The Godfather of Harlem airs new episodes Sundays on MGM Plus.
More Godfather of Harlem stories
Get the What to Watch Newsletter
The latest updates, reviews and unmissable series to watch and more!
Terrell Smith has a diverse writing background having penned material for a wide array of clients including the federal government and Bravo television personalities. When he's not writing as Terrell, he's writing under his pseudonym Tavion Scott, creating scripts for his audio drama podcasts. Terrell is a huge fan of great storytelling when it comes to television and film. Some of his favorite shows include The Crown, WandaVision, Abbot Elementary and Godfather of Harlem. And a fun fact is he's completely dialed into the TLC 90 Day Fiancé universe.