Ghosts season 2 episode 11 recap: burritos and the perfect assistant
Plus, Thor and Pete differ on how to deal with a bully.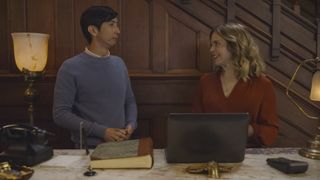 (Image credit: CBS)
NOTE: this post contains spoilers for Ghosts season 2 episode 11 "The Perfect Assistant."
Ghosts season 2 is back on CBS and there are some changes at Woodstone Mansion. When the episode opens, Jay (Utkarsh Ambudkar) and Sam (Rose McIver) are interviewing Freddie (Mike Lane) to be their new assistant. Freddie's got an impressive resume and a friendly demeanor that makes Jay and Samantha wonder why he'd want a job he's clearly overqualified for. Freddie tells them he's moved back to the area to be closer to family so he's looking to be part of the team at Woodstone Mansion and help it grow.
After Freddie is able to correctly answer Jay's question about what the correct move is if someone is at an airport and a gunman has taken someone hostage, Jay is ready to hire him on the spot. If you're wondering, the correct plan is to shoot the hostage, or at least that's what Keanu Reeves in Speed would do..
The ghosts are happy Jay and Sam have some help, but they're upset when they realize Sam won't be able to talk to them all day every day when Freddie is there. When Samantha tries to go for a walk so she can talk with the ghosts, Freddie insists on coming so he can learn his way around the grounds.
As Freddie and Sam are coming back from their walk, the ghosts are clumped around Freddie's car. They tell Samantha to come and meet the car ghost, which none of them have ever seen before.
The car ghost
Jessica (Nichole Sakura) is a car ghost. She's attached permanently to Freddie's car because she died in a crash involving that car. She was buzzed at the time of the accident, so she's forever buzzed in the afterlife, which frankly doesn't seem like a bad way to spend eternity.
Jessica explains being attached to the car isn't so bad because Freddie's job since he moved there has been delivering food, so she gets to see new places and smell lots of delicious food.
When Jessica talks to Sam she drops the bombshell news that Freddie is the one who killed her and dumped her body in the woods. Sam, understandably freaking out, tells Jay they need to fire Freddie right away, letting him think it was over a Diet Coke he took from the fridge.
But Jessica accidently arouses suspicion when Sas (Roman Zaragoza) asks her what her ghost power is. Jessica can make the car's alarm go off, promptly producing the key fob and setting it off. That causes the ghosts to wonder why she has a key to Freddie's car. Too buzzed to keep lying, Jessica reveals she made up the story about Freddie killing her so he would get fired and could go back to delivering food.
After Freddie and Jessica leave, the ghosts don't tell Sam the truth because they like being able to talk to Sam all day again. But Sas convinces them they have to tell her. Sam and Jay try to get ahold of Freddie to ask him to come back, however he won't take their calls or return their texts.
Out of desperation they start ordering many burritos, hoping Freddie will be the one that delivers their orders. They amass an impressive pile of burritos, but no luck. When they are ready to give up, Freddie shows up with their latest burrito order.
Seeing the giant pile of burritos, Freddie knows they are serious about wanting him back and he decides to come back to work at the Mansion.
Sas, who had some serious chemistry with Jessica, is happy that she'll be back at Woodstone Mansion daily.
Bjorn and the bully
While all this is going on Thor (Devan Chandler Long) handles a family situation with a little help from Pete (Richie Moriarty) and Flower (Sheila Carrasco). Thor's son Bjorn (Christian Jadah), who is attached to the property across the way with some other ghosts, is being bullied by a sassy '50s housewife named Judy (Lindsey Broad).
Thor can't understand why his strong Viking son is allowing himself to be bullied by a woman. Pete, who knows a thing or two about being bullied, encourages Bjorn to tell her how her bullying makes him feel. Thor thinks that's the wrong approach, but Pete convinces Thor he needs to let Bjorn be his own man and accept him even if he's not exactly like Thor.
Bjorn works things out with his nemesis Judy after it's revealed she has a crush on him and that's why she's bullying him. Thor is proud of him.
It's going to change the dynamic at Woodstone Mansion to have Freddie and Jessica joining the team, but there are sure to be more witty miscommunications, pop culture references and personality clashes as the ghosts and their livings figure out how to live their best afterlives and lives together.
New episodes of Ghosts premiere on Thursdays on CBS, then arriving on Paramount Plus the next day. Also check out our recap of the Ghosts Christmas special.
Get the latest updates, reviews and unmissable series to watch and more!
Sonya has been writing professionally for more than a decade and has degrees in New Media and Philosophy. Her work has appeared in a diverse array of sites including ReGen, The Washington Post, Culturess, Undead Walking and Final Girl. As a lifelong nerd she loves sci-fi, fantasy and horror TV and movies, as well as cultural documentaries. She is particularly interested in representation of marginalized groups in nerd culture and writes reviews and analysis with an intersectional POV. Some of her favorite shows include Game of Thrones, The Walking Dead, The Handmaid's Tale and The Sandman.
Thank you for signing up to Whattowatch. You will receive a verification email shortly.
There was a problem. Please refresh the page and try again.