Max Macmillan — things you didn't know about the Call the Midwife star
Max Macmillan started out as a child star on Call the Midwife, but what else is there to know about him?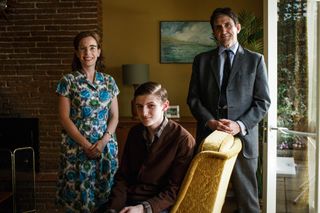 (Image credit: BBC)
Actor Max Macmillan is best known for his role as Timothy Turner in the hit BBC series Call the Midwife. About to celebrate his 10-year anniversary in the period drama, Max's character Timothy was introduced during the 2012 Christmas Special as the son of Dr Patrick Turner and his late wife Marianne Parker Turner.
Call the Midwife is Max's first major acting role, and audiences have watched Timothy grow up on their screens. Once a mischievous boy scout, Timothy is now following in his father's footsteps and training to be a doctor.
Last series saw Timothy put his medical skills to the ultimate test after a train crash nearly claimed the lives of Dr Turner and Sister Julienne and he worked hard to save them. And fans will have the chance to catch up with the character again when Call the Midwife Christmas Special 2022 airs, followed by Call the Midwife season 12.
In the meantime, here are a few fun facts about Max Macmillan…
Max Macmillan has a famous mum
Max isn't the only member of the Macmillan family who's made a name for himself. The young actor's mum, Gilly Macmillan is an internationally renowned author, who has written titles such as What She Knew, The Perfect Girl and To Tell You the Truth.
Her books have appeared on bestseller lists of both The Sunday Times and New York Times.
Call the Midwife is his breakout role
Max was just 12-years old when he was cast to play Timothy Turner in Call the Midwife.
Although he was a newcomer to television, Max wasn't daunted by starring on one of the nation's most popular dramas. In an interview with London News he shared: "The reason I didn't feel the pressure is because I was so young, so I didn't fully understand how big of an audience the show was playing too."
Max also revealed in 2019 he was given the chance to shadow one of the show's directors, so he could learn what goes on behind the camera. "I had sent out an email and soon after spent two weeks working behind the scenes for episode five and six in series 9, which were the one's I hadn't been in," he recalled.
"I got to focus on the camera work, lighting and everything that generally goes on behind a production."
He's a talented pianist
Acting isn't Max's only forte — he's also a very gifted piano player. Back in 2020, the star showed off his musical skills in a performance for Curtain Up In Crisis via a Facebook Live stream. The online event, which was held during the Covid pandemic, was in aid of National Emergencies Trust Coronavirus Appeal.
In October this year, Max was able to play to a real-life crowd when he performed his very first support gig at The Peer Hat in Manchester, showcasing a set of his original songs.
He's directed a music video
Max directed his first music video for Manchester-based folk singer-songwriter Ade Fabola, who goes by the name of "Dr Fabola" and "Ade".
The stylish video for the song, titled Something Good, features Ade playing an acoustic guitar and singing vocals. Describing the catchy track, Max said: "It's an amazing song about trying to be positive in a stressful world, and I hope it brings you all positive vibes."
He's starred in a film called The Song of Names
Max played Peter Stemp in the 2019 film The Song of Names, which follows the disappearance of a violin prodigy and an Englishman who travels throughout Europe to find him. Tim Roth, Eddie Izzard, and Stanley Townsend also star in the movie.
He likes to draw in his spare time
Previously, Max has shared some of his artwork to Instagram and seems to enjoy sketching with pencils. He took to Twitter to share a sketch he did of the Call the Midwife set in 2020.
He likes to experiment with his hair
In February this year, Max surprised his followers on social media with brand new hairdo. In the snap, shared on his Twitter and Instagram accounts, the usually-brunette actor debuted his newly dyed blonde hair, while enjoyed a late Christmas dinner with a group of his friends.
Max Macmillan's fact file
Frequently asked questions about the actor...
How old is Max Macmillan?
Max Macmillan is 22 years old, but his birthday has not been publicly disclosed. He is the son of bestselling author Gilly Macmillan.
Is Max Macmillan married?
Max Macmillan is not married.
Does Max Macmillan have any children?
Max Macmillan does not have any children.
Where was Max Macmillan born?
Max Macmillan was born in Bristol.
How tall was Max Macmillan?
Max Macmillan is five foot two.
Instagram: @lazydonkey27
Twitter: @MaxMacmillan2
We work hard to ensure that all information is correct. Facts that change over time, such as age, will be correct, to the best of our knowledge, at the time of the last article update.
Get the What to Watch Newsletter
The latest updates, reviews and unmissable series to watch and more!