Meet the Fall cast: who's who in the survival thriller now on Netflix
Meet all four actors in the movie.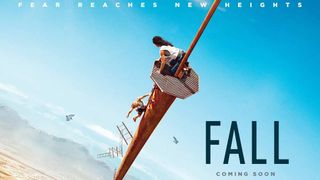 (Image credit: Lionstage)
If you're a fan of survival thriller or horror films with a limited cast stuck in one small location, you're going to love Fall, which was just added to Netflix and is already in the top spot in many countries.
Fall is about a woman grieving her husband, who died in a climbing accident a year prior; her best friend talks her into finally returning to climbing, with their target being the B67 TV tower, based on California's 2,000-foot KXTV/KOVR Tower. Things, obviously, go pretty wrong.
There are only four important actors in Fall but you might recognize some of them; so here's the cast of the 2022 thriller movie.
Grace Caroline Currey as Becky
Becky is the main character of Fall; she once was a passionate climber along with husband Dan and best friend Shiloh, but after a climbing accident claims the life of the former at the beginning of the movie, she's affected by PTSD and alcoholism.
Grace Caroline Currey is a young up-and-coming actor, and movie fans will likely recognize her from Shazam! (and soon its sequel, Fury of the Gods) as Mary, one of the members of the foster house where the main character lives. She also features in Annabelle: Creation and Badland.
Virginia Gardner as Shiloh
Becky's best friend, Shiloh is with her when Dan falls, but she deals with it a lot better. Something of an adrenaline junkie, Shiloh runs a social media page where she shares tale of her extreme activities from around the world.
The biggest movie Virginia Gardner has been in is the 2018 Halloween reboot, where she plays side character Vicky, as well as All the Bright Places on Netflix.
Jeffrey Dean Morgan as James
James is Becky's dad. He didn't have high thoughts of Dan, which caused a rift between him and Becky after his death, but he's been trying to fix that divide ever since (with mixed results).
Jeffrey Dean Morgan is the most famous actor in this movie, with big TV roles under his belt like John Winchester from Supernatural, Negan from The Walking Dead and Denny Duquette in Gray's Anatomy.
He's been in plenty of movies too like Watchmen, Rampage and Read Dawn, making him a recognizable star.
Mason Gooding as Dan
Dan was Becky's husband, until a climbing accident brought that relationship (and his life) to an abrupt end. However, the legacy of his life lives on for both Becky and Shiloh.
Mason Gooding is best known for the 2022 Scream reboot as well as its upcoming sequel, as he plays the character Chad; he's also in Love, Victor as Andrew and Paul in I Want You Back.
Get the What to Watch Newsletter
The latest updates, reviews and unmissable series to watch and more!
Streaming and Ecommerce Writer
Tom is the streaming and ecommerce writer at What to Watch, covering streaming services in the US and UK. His goal is to help you navigate the busy and confusing online video market, to help you find the TV, movies and sports that you're looking for without having to spend too much money.