Meet the Pitch Perfect 3 cast: who's who in the musical drama trending on Netflix
The Pitch Perfect singers return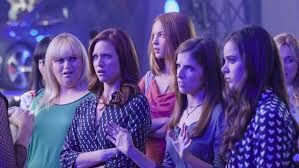 (Image credit: Universal Pictures)
One of the most-watched movies on Netflix in many countries right now is Pitch Perfect 3, the threequel and final entry in the popular musical comedy series.
Taking place several years after Pitch Perfect 2, the third movie sees the returning cast of characters having graduated college, but after their lives don't pan out how they envisioned a series of capers brings them closer together.
So who's in that cast of characters? Here's who's who in Pitch Perfect 3.
Anna Kendrick as Beca Mitchell
The former leader of the Barden Bellas (the acapella group the characters are all in), Beca gets a job in music production after college, but finds it isn't what she expected. She quits her job to embark on the tour that kicks off Pitch Perfect 3.
Anna Kendrick is a Hollywood star who's been in plenty of projects . Some are musicals, like Into The Woods, Trolls or the first two Pitch Perfect movies but there are plenty more including the Twilight movies, Scott Pilgrim vs The World and Up In The Air.
Rebel Wilson as Patricia Hobart
Another former member of the Barden Bellas, Patricia Hobart — given the unflattering nickname "Fat Amy" due to her one-woman show where she plays a large Amy Winehouse — has an important role in this movie. She has to connect with her estranged criminal father Fergus (John Lithgow) who may not have truly abandoned his criminal ways.
A well-known Australian comedian, Rebel Wilson is known not just for her stand-up comedy but for roles in comedy films like What to Expect When You're Expecting, Bridesmaids and How to Be Single. She's also recently branched into more serious films like Jojo Rabbit and Cats. She's set to star in another musical in 2023, called Verona, which is an adaptation of Romeo and Juliet.
Brittany Snow as Chloe Beale
Chloe used to be the co-leader of the Barden Bellas along with Beca, but like her ex-co-stars, her life hasn't panned out too well. She's looking to join vet school but it's not worked just yet.
Before Pitch Perfect, Snow had already impressed in musicals for Hairspray, and she's also had a returning role in Crazy Ex-Girlfriend. Beyond these movies you may know her from Prom Night, John Tucker Must Die and, more recently, horror cult classic X.
Hailee Steinfeld as Emily Junk
After the other characters leave Barden University, Emily takes over as leader of the acapella group, and it's by her invitation that the older characters return to the fold and re-join the group.
After coming to fame as the star of 2010 western remake True Grit, Steinfeld has been in loads, notably The Edge of Seventeen, Bumblebee, Ender's Game, Hawkeye and Dickinson, and has also worked as a voice actress in Arcane and Spider-Man: Into the Spider-Verse.
After her work in previous Pitch Perfect movies, Steinfeld also has a burgeoning musical career.
Get the What to Watch Newsletter
The latest updates, reviews and unmissable series to watch and more!
Streaming and Ecommerce Writer
Tom is the streaming and ecommerce writer at What to Watch, covering streaming services in the US and UK. His goal is to help you navigate the busy and confusing online video market, to help you find the TV, movies and sports that you're looking for without having to spend too much money.