The Company You Keep episode 3 recap: Charlie cons a con-man
Meanwhile, Emma meets the rest of the Nicoletti family, but struggles to win over Birdie.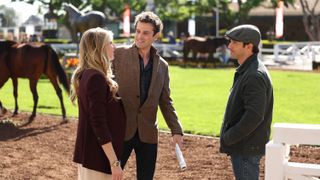 (Image credit: ABC/Raymond Liu)
NOTE: this post contains spoilers for The Company You Keep episode 3, "Against All Odds."
The Company You Keep has established the Nicolettis are an extremely likable family of con-artists. Sure, we've seen them steal $10 million in Bitcoin, $900,000 in laundered money and a rare necklace, but those were from Irish gangsters, a crooked pastor and a vapid socialite.
"Against All Odds" shows that the Nicolettis aren't just willing to steal from anyone. Still on the hunt to reduce the family's $15 million debt to the Maguire syndicate, Charlie (Milo Ventimiglia) meets up with his old school friend Jones Malone (Luke Kirby) at the racetrack in Baltimore. This is despite the fact that pretty much everyone else in the family can't stand Jones.
When Charlie arrives, he learns that Jones is now going by the name Frankie. He is also tricking the extremely wealthy venture capitalist Martha Pope (Jes Macallan) into buying a horse he doesn't even own. Jones has also tricked Martha into falling in love with him, and he's going to ditch her once the transaction is done.
Jones wants Charlie, Birdie (Sarah Wayne Callies), Fran (Polly Draper) and Leo (William Fichtner) to help complete the con, by pretending to be the horses' owner. But after Birdie does some research on Martha, she discovers she's not just rich, but incredibly benevolent, donating millions of dollars to charitable causes.
As a result, Charlie decides that Jones deserves to have a taste of his own medicine. Birdie tells Martha that Jones is trying to con her. She then lays out a plan to Martha that will see her steal half a million dollars of Jones' money, which is their payment for turning the tables on him. That just so happens to be $300,000 more than the amount Jones was willing to pay them, too.
In order to trick Jones, Martha says the sales price of the horse will now be linked to the closing odds of the upcoming race. But she's only willing to pay up to $2 million. On race-day, Charlie and Leo go around the race track convincing people to put more and more money on the horse to cut its odds.
Ultimately, they are reduced to 4/1, meaning that the horse is now actually worth $2.5 million. Knowing that Martha won't spend more than the $2 million she vowed, Jones puts in the extra $500,000 using his own money. Especially because he's under the assumption that the $2.5 million is going into his own bank account.
But after Birdie secretly changes the account numbers on the transaction, all of the money goes straight to Martha. Jones doesn't even notice, as he leaves for the airport before the race even starts. Plus, as Birdie reminds Martha whenever she gets nervous, a con-man never suspects they're the ones that are going to get conned.
Meanwhile, Charlie and Emma's (Catherine Haena Kim) relationship is going strong. Though Charlie is still reluctant to tell her about his family and their profession, as he's certain that she'll run away. He's forced to introduce her to everyone when his niece Ollie (Shaylee Mansfield) runs into her as she's leaving his apartment one morning. Ollie then tells the whole family, who immediately demand to meet Emma.
Over a night of crabs and beer at the bar, Emma delights and charms all of the Nicoletti family. She shares her love of astrology with Fran, exchanges sign language with Ollie, helps an embarrassed Leo when he forgets what drinks to pour and even picks the perfect song on the jukebox.
Birdie takes longer to win over. After avoiding Emma all night, they have a game of darts, where Birdie quizzes her about her work, love life and what she wants with Charlie. Emma manages to appease her for the time being, but there's still a combative energy between the pair.
At the same time, Emma's brother David's (Tim Chiou) political career looks to be on the cusp of collapse after he loses the support of his political party, leaving his efforts to become the next senator for Washington state in tatters. However, a mysterious phone call from an unknown person vowing to help his campaign gives him a glimmer of hope.
Still the defacto head of the Maguire crime family, Daphne (Felisha Terrell) has much more control of her professional pursuits. With Patrick Maguire (Timothy V Murphy) still in prison, and his son Conner in Dublin, she starts to make secret deals with other local drug dealers. But after Ollie discreetly puts the tracker Birdie uses on her in Daphne's bag, Charlie is able to see her movements and realizes she's trying to take over the Murphy crime family.
Charlie calls Conner to tell him of Daphne's devious actions, hoping to cause a split in the family. During their call he reveals that Daphne is also Conner's secret sister, all of which will almost certainly see him travel to the US. She's not the one in the most imminent danger, though.
As Charlie leaves the bar, he's suddenly kidnapped by a group of people who throw him into the back of a truck and drive off.
Leaving us to wonder, who has taken Charlie? Is it Daphne? Or maybe Patrick pulling the strings from prison? Could it be the government, after discovering how close Emma has got to him? It's another great looming question for audiences to ponder as The Company You Keep continues.
So far, the romance, crime, drama has proven to be a hugely enjoyable addition to the Sunday night schedule. Even when an episode threatens to become drab, the likes of Fichtner, Draper, Callies and Ventimiglia and Kim's chemistry keep it entertaining. But the drama could certainly benefit from an extra level of tension, which Charlie's kidnapping or Conner's arrival should introduce.
New episodes of The Company You Keep airs Sundays on ABC, then stream on-demand on Hulu.
More on The Company You Keep
Get the What to Watch Newsletter
The latest updates, reviews and unmissable series to watch and more!
Born and raised in England but now based in Philadelphia, Gregory Wakeman has written for the BBC, New York Times, The Guardian, GQ, and Yahoo Movies UK, all while defiantly trying to keep his accent.