The Hatchet Wielding Hitchhiker — is it a true story? Who is Kai? All your questions answered
Who was the Hatchet Wielding Hitchhiker who went viral?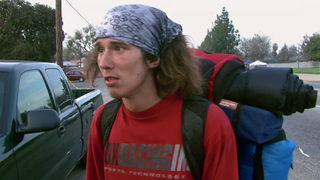 (Image credit: Netflix)
True crime podcasts and documentaries — and the crimes they're based upon — often go viral, but what happens when a viral news story turns into a true crime story steeped in murder and intrigue? That's the subject of the Netflix documentary The Hatchet Wielding Hitchhiker.
A young hitchhiker seemingly saves the day with his trusty hatchet, coining the phrase "smash, smash, suh-mash." But when a man ends up dead, was the young hero to blame?
Here's the description of the documentary from Netflix: "This shocking documentary chronicles a happy-go-lucky nomad's ascent to viral stardom and the steep downward spiral that resulted in his imprisonment."
This new documentary from Colette Camden explores Kai's case and the warning bells that should have been going off before he was put on a pedestal and turned into a viral social media sensation.
Is the Hatchet Wielding Hitchhiker a true story?
The Hatchet Wielding Hitchhiker is a documentary telling the true story of a young homeless man named Kai, whose real name was Caleb Lawrence McGillvary.
Kai was born in 1988 in Edmonton, Canada. He left his home and started hitchhiking, eventually finding himself in Fresno, Calif., which is where the viral video was shot.
In February 2013, Kai was interviewed by a local Fresno television news station about his role in saving the lives of two innocent victims who had been attacked by the man with whom he'd been hitching a ride.
According to Kai, he was in a car with Jett Simmons McBride, who'd picked him up to give him a ride into Fresno. During the drive, McBride claimed to be Jesus Christ and recounted his hatred of Black people as well as several crimes he'd committed, including raping a young girl in the Virgin Islands. Suddenly McBride crashed into a parked truck, pinning a Black pedestrian between the two cars; when a woman went to help the pedestrian, McBride leapt out and attacked her.
That's when Kai sprang into action with his trusty hatchet, striking McBride several times in the back of his head with the blunt side of the axe.
Why did the Hatchet Wielding Hitchhiker go viral?
While the heroic act was enough to garner praise from the media and even the police as he rushed in to save McBride's victims, that's not why Kai the hitchhiker ended up going viral.
In his eyewitness account to local news, the animated young man with a shock of long hair described how he went after McBride with his hatchet. "Smash, smash, suh-mash!" he exclaimed, acting out each swing of the hatchet for the camera.
When the video was posted online, he became an internet sensation (opens in new tab). Suddenly he was everywhere, including guest appearances on Jimmy Kimmel Live! and an episode of Inside Edition that gave him even more exposure. Justin Bieber's people reached out to talk about doing a project with him and he even signed a contract for a possible reality show.
What were the red flags about the Hatchet Wielding Hitchhiker?
No one stopped to consider whether elevating Kai to viral status was a good idea. As is the case with so many viral events, the video's popularity rose so quickly that it attracted attention from even more media, and soon 24-year old Kai was a pseudo-celebrity.
Brad Mulcahy, who worked for Jimmy Kimmel Live! as a human-interest researcher, recounts how Kai was highly intoxicated during those appearances, to the point of publicly urinating.
Kai signed the reality show contract in hieroglyphs, which was looked upon as quirky and endearing rather than alarming.
According to people who knew him, they recall that he was often angry and that anger could turn toward violence. Kai told stories of another incident in which he saved a woman from being abused and that he subdued the attacker when he "smashed him in the head."
His cousin, Jeremy McGillvary Wolfe, said in the documentary that Kai had a difficult childhood in Canada and was frequently locked away in his room when he was a child. At 13, he started a fire in the house and was sent to live in foster care.
"I honestly believe [Kai] has mental issues," Wolfe said, "because he seems well but when it comes to a certain situation of pressure, you either become a diamond or you get crushed. And in this case, [Kai] gets crushed."
Perhaps most telling was the way Kai's story seemed to contradict the facts of the McBride case. Kai indicated that he and McBride smoked marijuana laced with other drugs and that McBride couldn't handle it. But McBride's toxicology report only reflected the presence of the marijuana. Fresno police officer Jeff Stricker said that Kai told him after the incident that while they were high, he told McBride that they were ghosts and they could "drive through that truck right now and no one would see [them]."
Who did the Hatchet Wielding Hitchhiker kill?
The viral video of Kai was filmed in Fresno in February 2013. In May 2013, a man named Joseph Galfy was found dead in New Jersey. The 73-year-old lawyer was found wearing underwear and socks and he'd suffered blunt force trauma to the head.
During the police investigation, Kai's name and phone number were found with a train ticket receipt in Galfy's home. Investigators then found footage of Galfy buying Kai a train ticket and giving him a hug. With a lead in hand, they managed to track down Kai at a Philadelphia bus station several days later and charged him with murder.
The story gets muddled because Kai admits to killing Galfy but claims it was self-defense. He said Galfy took him to dinner and offered him a place to stay. That night Kai claims he was drugged and sexually assaulted, something Kai hinted at on his Facebook page. Instead of leaving, though, he stayed another night with Galfy and Galfy tried to assault him again. This led Kai to defend himself by smashing his head with his hands and elbows.
Throughout the interrogation, which can be seen in the documentary, Kai's story shifts. The evidence at the crime scene doesn't add up with his story of self-defense as there were no signs of a struggle.
Where is the Hatchet Wielding Hitchhiker now?
Kai's legions of fans raised money for his defense (opens in new tab). Though arrested in 2013, his trial didn't begin until April 2019. He took the stand in his own defense, which likely hurt his cause after several explosive outbursts during cross examination. He was convicted by a jury of first-degree murder and sentenced to 57 years in prison.
In August 2021, he lost a bid to overturn his murder conviction (opens in new tab). Kai's attorneys argued that the verdict wasn't supported by the evidence and that some of the testimony was highly prejudicial. The motion for appeal was dismissed after the judge cited the medical examiner's notes that indicated the severity of Galfy's injuries, adding that they were "far more than just an effort to thwart a sexual advance."
The Hatchet Wielding Hitchhiker is now available to stream on Netflix.
More true crime
Get the latest updates, reviews and unmissable series to watch and more!
Editorial Content Producer
Sarabeth joined the Watch to Watch team in May 2022. An avid TV and movie fan, her perennial favorites are The Walking Dead, American Horror Story, true crime documentaries on Netflix and anything from Passionflix. You've Got Mail, Ocean's Eleven and Signs are movies that she can watch all day long.
When she's not working, Sarabeth hosts a podcast dedicated to books and interviews with authors and actors. She's also very close to realizing her lifelong dream of publishing a novel.
Thank you for signing up to Whattowatch. You will receive a verification email shortly.
There was a problem. Please refresh the page and try again.