Who is Gargoyle on The Masked Singer US?
Gargoyle won the audience over with his smooth stylings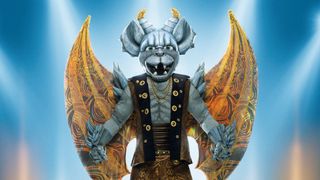 (Image credit: Michael Becker/Fox)
From the moment he started singing (in a preview clip), Gargoyle had the audience in the palm of his hands, er, wings. The smooth stylings of the stony singer immediately captured attention on DC Superheroes Night on The Masked Singer, and it had everyone wondering who was under the mask.
Gargoyle made his debut along with two other new contestants, Squirrel and Wolf. Though he might look like a bat, Gargoyle came out and showed the audience that he's a singer and a competitor.
After a rousing performance, Gargoyle lost in the Battle Royale to Squirrel, but he lived to sing another day after the panelists utilized the Ding Dong Keep It On save feature. Gargoyle will live to sing another day when all of the contestants saved will complete against each other.
So who is under the mask? Let's look at the clues to see who is Gargoyle on The Masked Singer.
Wait a second... 🔔#GargoyleMask stays! #TheMaskedSinger pic.twitter.com/nx4jtG4LOZMarch 9, 2023
Who is Gargoyle on The Masked Singer US? Song picks
For his first song, Gargoyle sang "One Call Away" by Charlie Puth. If we had to guess, we'd say that Gargoyle is a singer. He's a natural and it's easy to get lost in his silky voice.
Gargoyle faced off against Squirrel in the Battle Royale with a thrilling rendition of "Kryptonite" by 3 Doors Down.
Are you Team #SquirrelMask or Team #GargoyleMask? 🐿 vs. 🗿#TheMaskedSinger pic.twitter.com/crbkduU2t6March 9, 2023
Who is Gargoyle on The Masked Singer US? Clues
Here are Gargoyle's clues from DC Superheroes Night:
Celebrity Clue (delivered by Helen Mirren and Zachary Levi): "Record maker." Gargoyle said, "I'm keen on making waves in the field. But being a part of history is the best bonus I could ask for."
Voiceover clue: "From the time I was 6, I pretty much knew I wanted to be a superhero. But while my peers all seemed to fly, I was stuck on the sidelines. Until my dad gave me a piece of advice. Never let anyone tell you, you can't do something. He made me believe I could do anything. And it became my superpower. So, when the call finally came for a hero, I put my cape on, and shocked millions with how hard I slay. I went from the guy they passed on, to the guy they passed to. And now when the lights are blinded and the game is on the line, I always answer the call."
Who is Gargoyle on The Masked Singer US? Costume clues
Gargoyles are usually meant to be dark and intimidating figures, but The Masked Singer's Gargoyle looks like he's ready to give you a big hug. With horns, giant ears and a broad smile, he even looks friendly. He's a friendly Gargoyle.
If you look closely, you'll notice that Gargoyle's clothing is very intricate. His breeches and jacket have an ornate pattern on them and his buttons and boots have gold embellishments. Even his wings feature an intricate design on them, suggesting that this isn't your ordinary Gargoyle. This Gargoyle is friendly and stylish.
If you didn't know better, you might even think that it's no coincidence that Gargoyle is making his grand debut on DC Superheroes Night because he resembles a nice version of Man-Bat, Batman's sometimes nemesis. Shine a light from behind him and you might even wonder if you're looking at Batman himself.
Who is Gargoyle on The Masked Singer US? Guesses
After hearing the clues, the panelists had some ideas about Gargoyle's identity and they ranged from Antonio Gates of the L.A. Chargers to The Weeknd and Odell Beckham Jr.
The Masked Singer season 9 airs Wednesdays at 8 pm ET/PT on Fox.
Get the What to Watch Newsletter
The latest updates, reviews and unmissable series to watch and more!
Editorial Content Producer
Sarabeth joined the Watch to Watch team in May 2022. An avid TV and movie fan, her perennial favorites are The Walking Dead, American Horror Story, true crime documentaries on Netflix and anything from Passionflix. You've Got Mail, Ocean's Eleven and Signs are movies that she can watch all day long.
When she's not working, Sarabeth hosts the My Nights Are Booked Podcast (opens in new tab) and blog (opens in new tab) dedicated to books and interviews with authors and actors. She also published her first novel, Once Upon an Interview (opens in new tab), in 2022.