Who is Medusa on The Masked Singer US?
Medusa has us under a spell on The Masked Singer US.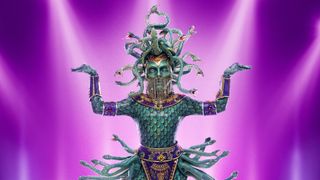 (Image credit: Michael Becker / FOX)
The new season of The Masked Singer US has arrived and there are lots of new masked contestants to meet. One of the most elaborate contestants is Medusa with their scaly suit and plethora of snakes adorning the costume.
But who is Medusa? Over the course of The Masked Singer season 9 we'll gather clues and compile them here because we want to know who's under the mask as much as you do!
Here's everything we know about Medusa on The Masked Singer US.
Who is Medusa on The Masked Singer US? Songs
Week 1: Medusa sang "Happier Than Ever" by Billie Eilish.
Week 2: Medusa sang "Dancing Queen" for ABBA Night. She sang "Winner Takes It All" in the Battle Royale against Night Owl and won, which puts her in next week's episode for a spot in the semi-finals.
Ahead of The Masked Singer US week 3's New York night, a preview of Medusa's performance of Frank Sinatra's "New York, New York" was shown:
Who is Medusa on The Masked Singer US? Clues
Here are the clues from Week 1:
Swag Bag Clue: DVD of "Medusa: Snakes on the Astral Plane" and a note: $340 Million Sold!" "Sometimes, success comes in the grayest of places."
Voiceover Clue: "I grew up far from the spotlight, a dancer in the dark. And I never quite fit in. I mean, look at me. But fitting in was never something I really worried about. Because I knew early on, I was born to stand out. So, I did my own thing and ignored anyone who wanted me to conform. Embracing my oddities, snakes and all, has taken me far. From the Super Bowl to this very stage. That's right, technically I've been here before. But this time I'm here to compete. And Masked Singer seems like the perfect stage for me. Because look around, it doesn't get much weirder than this."
Week 2 clues:
Celebrity Clue: Medusa's ABBA Night clue arrived courtesy of Nick Viall. It was a first class ticket on Flight 1996 to Tokyo. "I've taken a tour of the world and I love it," Medusa said. "Want to know where I'm from? Take a closer look."
Voiceover Clue: "It's incredible to be the first winner of The Masked Singer season 9. And hearing what Nicole said made me actually tear up. ('That was an experience.') Hearing that was like winning to me. I'm glad my fun personality shined through this unique mask. Because while I look like I could turn someone to stone in this thing, I'm actually a bit of a softy underneath. Because you all showed me so much love last week, here's me sending it right back. In the form of a new clue in the clueseum. Did you get it? Or are you getting colder?"
Week 3 clues
Celebrity Clue: Medusa's New York Night clue arrived courtesy of Real Housewives of New York star Luann de Lesseps who brings a wire rendering of the iconic Brooklyn Bridge. She states, "Sometimes you have to build a bridge to get over it. Hopefully, it will put you in the right state of mind."
Voiceover clue: Medusa's voiceover clue this week proved interesting as she made the point to state that she's singing her dad's favorite karaoke song, "New York, New York." Furthermore, former contestant Scottish Terrier's mask is shown, which fans will remember was Food Network star and cake genius himself, Duff Goldman
Who is Medusa on The Masked Singer US? Guesses
The panelists had a variety of guesses about Medusa in Week 1. Here are some of their early guesses: Elle Goulding, Meghan Markle, Jessie J, Charlie XCX, Dua Lipa, Lorde.
Week 2 guesses: Tove Lo, Apple Martin, Dakota Johnson
Week 3 guesses: Florence Welsh, Shirley Manson, Susan Boyle and Kesha
Who is Medusa on The Masked Singer US? Costume clues
Of the three costumes revealed early to promote the premiere of The Masked Singer US season 9, Medusa is by far the most ornate. Sure, Gnome is covered in moss and flowers, but he looks like Swamp Thing next to the serpentine elegance gracing Medusa's costume.
The scaly bodysuit features purple and gold accents with lots of colorful jewels. There are cuffs, a skirt and really phenomenal over-the-knee boots that make the costume pop. Medusa's mythological roots are based in Greece. Some of the accents of The Masked Singer's Medusa costume almost look like they were made for a goddess and not the famed Gorgon from the tales and legends of old.
Medusa is known for snakes coming out of their head, and in this case the many snakes could represent many hats that The Masked Singer's Medusa wears. Is Medusa a multi-hyphenate actor and singer? Or a sports star who also sings? An EGOT?
In terms of Medusa's stature, we can look at the photo below featuring fellow Week 1 contestants Gnome and Mustang and see that Medusa is on the shorter side compared to the other two.
We have a feeling that unlike the mythological monster, this version of Medusa will be stunning the audience with their voice and not their stony gaze. Medusa has the poise of someone who is familiar with performing and we're confident that they're here to compete.
We won't know who Medusa is until the mask comes off, but until their identity is revealed we'll be adding all of the clues about their identity right here so keep checking back.
The Masked Singer US season 9 airs Wednesdays at 8 pm ET/PT on Fox.
Get the What to Watch Newsletter
The latest updates, reviews and unmissable series to watch and more!
Editorial Content Producer
Sarabeth joined the Watch to Watch team in May 2022. An avid TV and movie fan, her perennial favorites are The Walking Dead, American Horror Story, true crime documentaries on Netflix and anything from Passionflix. You've Got Mail, Ocean's Eleven and Signs are movies that she can watch all day long.
When she's not working, Sarabeth hosts the My Nights Are Booked Podcast (opens in new tab) and blog (opens in new tab) dedicated to books and interviews with authors and actors. She also published her first novel, Once Upon an Interview (opens in new tab), in 2022.