Who is Night Owl on The Masked Singer US?
Night Owl has everyone guessing on The Masked Singer.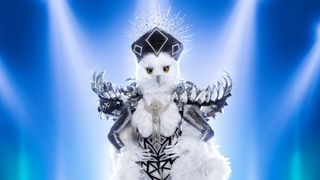 (Image credit: Michael Becker / FOX)
Night Owl made her debut in Week 2 of The Masked Singer US season 9 during ABBA Night on the Fox singing competition. Night Owl was joined by Rock Lobster, and together they faced off against the Week 1 champion, Medusa.
Ahead of the episode, based only on a short preview, we learned she's got a powerful voice.
Let's see if we can figure out who Night Owl is on The Masked Singer US.
Who is Night Owl on The Masked Singer?
Night Owl was unmasked after facing off against Medusa in the Battle Royale, where they both performed ABBA's "Winner Takes It All."
Pop icon Debbie Gibson was under the Night Owl mask. She was a last minute addition to The Masked Singer cast after the planned contestant dropped out due to a positive COVID-19 test, leaving Gibson a matter of hours to prepare. "I didn't really have much time to decide to do it," Gibson told Variety (opens in new tab). "I had 14 hours from the time I was landing in Las Vegas from a flight back from New York, drove out to LA and was on set by 8 in the morning. I'm more adventurous than people might know. For me, it was a special moment, as the go-to girl to save the day. I had no time to overthink or prepare."
Who is Night Owl on The Masked Singer US? Songs
In the preview for the ABBA Night show, Night Owl could be seen belting out one of ABBA's biggest hits, "Fernando," and her voice wass nothing short of amazing. Then, in the full performance, she proved that she's a competitor with an incredible voice.
Who is Night Owl on The Masked Singer US? Costume clues
You don't want to ruffle Night Owl's feathers, that's for sure. Night Owl's elegant costume is a mix of pristine white feathers and lots of mirrors that look like feathery armor. She has a stunning jewel-encrusted choker dripping with ice and her spiked plumage make it look like she's wearing a crown. (The crown actually played into the whole pop princess theme)
Who is Night Owl on The Masked Singer US? Show clues
Here were Night Owl's clues:
Celebrity Clue: Bubble gum. "If you're feeling blue, give this a chew. It's sweet and bubbly, just like me."
Voiceover clue: "Hold on to your disco balls because it's ABBA night, and this owl is bringing the party. I broke records and topped charts at just 17. And you could say I paved the way for some of your favorite millennium chart toppers. Britney, Christina, Nicole. There's been other divas like me but I'm the top princess OG. I've been in this game for years and that's because I'm a straight up triple threat. You've gotten lost in my movies, TV and on Broadway. I never turn down a chance to try something new. I've been waiting to do this show for ages. But the stars didn't align until, well, yesterday. Literally. 24 hours ago. I know people who need more than a day to make dinner plans. But I live for a challenge. And now I'm ready to put on a show like the baddie birdie of prey that I am."
Who is Night Owl on The Masked Singer US? Guesses
It's anyone's guess as to hoo, or, who is behind the Night Owl mask. Early guesses based on the episode's preview had fans guessing Debbie Gibson and Tia Mowry.
During the show, Robin Thicke guessed Kylie Minogue, Nicole Scherzinger guessed Belinda Carlisle or Cyndi Lauper and Ken Jeong said it was Sarah Jessica Parker. Only Jenny McCarthy Wahlberg guessed correctly.
The Masked Singer season 9 airs Wednesdays at 8 pm ET/PT on Fox.
Get the What to Watch Newsletter
The latest updates, reviews and unmissable series to watch and more!
Editorial Content Producer
Sarabeth joined the Watch to Watch team in May 2022. An avid TV and movie fan, her perennial favorites are The Walking Dead, American Horror Story, true crime documentaries on Netflix and anything from Passionflix. You've Got Mail, Ocean's Eleven and Signs are movies that she can watch all day long.
When she's not working, Sarabeth hosts the My Nights Are Booked Podcast (opens in new tab) and blog (opens in new tab) dedicated to books and interviews with authors and actors. She also published her first novel, Once Upon an Interview (opens in new tab), in 2022.