Who is Rock Lobster on The Masked Singer US?
Rock Lobster knows how to have a good time.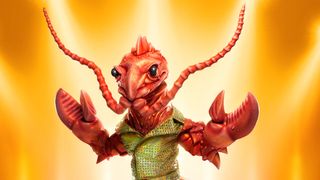 (Image credit: Michael Becker / FOX)
Rock Lobster loves to party, and the newest addition to The Masked Singer US season 9 seemed to be having a good time. Rock Lobster made his debut in the ABBA Night episode along with fellow newcomer Night Owl and Medusa, who continued on from Week 1 after defeating Gnome and Mustang.
The judges agreed that Rock Lobster is one of the craziest contestants they've ever had on the show, and that's saying something.
So who is Rock Lobster on The Masked Singer? Let's look at the clues!
Who is Rock Lobster on The Masked Singer US?
Rock Lobster turned out to be America's Got Talent judge and comedian Howie Mandel, who was convinced that this is just the beginning for Rock Lobster. "I'm blazing a trail when it comes to singing and dancing," Mandel said after he was unmasked. "Mark my words, Rock Lobster is only the beginning. I would imagine there will be rumblings of Rock Lobster being next year's Super Bowl halftime show."
Who is Rock Lobster on The Masked Singer US? Costume clues
Rock Lobster is wearing a green shirt and black pants, with black boots that have some red trim that match his claws. His clothing isn't flashy, extraordinary or all that special, really. What really makes Rock Lobster stand out is his incredibly intricate lobster mask with long tendrils and those giant claws. Oh, and the tail, of course.
With most masks, the details come from the clothing, but in Rock Lobster's case, the costume is so realistic that it literally looks like a real-life rock lobster wearing clothes...standing on two legs, of course.
Who is Rock Lobster on The Masked Singer US? Songs
Rock Lobster sang "SOS" by ABBA.
Who is Rock Lobster on The Masked Singer US? Show clues
Here are the clues for Rock Lobster.
Celebrity Clue: A gavel. "I'm a great judge of character," he said. "That's why I know these people have no idea who this character is."
Voiceover clue: "Oh hello. Welcome to the Masked Singer's hottest club, Lobster a Go-Go! Where we're spinning ABBA all night long. It's got everything, trust me! Just like me. I've been in movies and TV shows since you were a kid. And I can't believe 10 million people watched me dance for 15 seconds on the daily! In school, I was a weird, neurotic mess. I got my fulfillment from creating elaborate pranks. It ultimately got me expelled from three different schools. So there I was, a compulsive crustacean without a diploma when one day, on a dare, everything changed. I shared my quirks with an audience. And now the things that got me in trouble with an audience are the things I get paid for. Don't get me wrong, I'm still a neurotic mess, especially recently. But I've made an entire career out of being uncomfortable. And that's why I'm ready to embarrass myself in a whole new way."
Who is Rock Lobster on The Masked Singer US? Guesses
Panelist Ken Jeong guessed that Rock Lobster was Howie Mandel. Alan Thicke guessed Steve-O, Jenny McCarthy Wahlberg guessed Martin Short and Nicole Scherzinger agreed with her.
The Masked Singer season 9 airs Wednesdays at 8 pm ET/PT on Fox.
Get the What to Watch Newsletter
The latest updates, reviews and unmissable series to watch and more!
Editorial Content Producer
Sarabeth joined the Watch to Watch team in May 2022. An avid TV and movie fan, her perennial favorites are The Walking Dead, American Horror Story, true crime documentaries on Netflix and anything from Passionflix. You've Got Mail, Ocean's Eleven and Signs are movies that she can watch all day long.
When she's not working, Sarabeth hosts the My Nights Are Booked Podcast (opens in new tab) and blog (opens in new tab) dedicated to books and interviews with authors and actors. She also published her first novel, Once Upon an Interview (opens in new tab), in 2022.