Who is Gnome on The Masked Singer US?
Gnome appears in The Masked Singer season 9.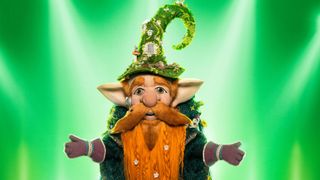 (Image credit: Michael Becker / FOX)
With the new season of The Masked Singer comes a whole host of new masked contestants to fall in love with. One of the cutest additions to the season 9 cast is Gnome, a portly and triangular character with Grogu ears and a Keebler Elf moustache and beard.
But who is Gnome? Over the course of The Masked Singer US season 9 we'll gather clues and compile them here because we want to know who's under the mask as much as you do.
Here's everything we know about Gnome on The Masked Singer US.
Who is Gnome on The Masked Singer US?
Gnome was unmasked in the season premiere of The Masked Singer but he had fans cheering for more. Gnome turned out to be none other than Hollywood legend Dick Van Dyke! And at 97, Van Dyke is the oldest performer to ever grace the Masked Singer stage!
Known for performances in everything from Mary Poppins to The Dick Van Dyke Show, the talented actor, singer, dancer and all-around legendary performer gave the crowd a riveting performance.
"This is the most seasons and decorated entertainer we have had on our show," host Nick Cannon told the audience. "Truly a legend."
🗣 TAKE IT OFF! TAKE IT OFF! 🗣#TheMaskedSinger pic.twitter.com/aEi2sC59sfFebruary 16, 2023
Who is Gnome on The Masked Singer US? Songs
Gnome performed Billie Holliday's take on the Frank Sinatra classic "When You're Smiling."
"They wanted me to do something a little more current," he told Variety. "But I said I know nothing about modern music. You've got to let me sing an old favorite. Somebody thought I was Tony Bennett! Of course, they also guessed Dustin Hoffman."
Who is Gnome on The Masked Singer US? Clues
Here were Gnome's clues:
Swag Bag Clue: He's a Kennedy Center honoree. "I met President Biden, I told him you know I used to be as tall as you, and he said, I used to have hair like you."
Voiceover Clue: "Just like a wise magical gnome observing the forest around him, I've become a mainstay of your lives over the course of my storied career. Just ask the producers. I really have done it all. I've joked with the cleverest of comedians, from Robin Williams to Ben Stiller. I've performed with the biggest names in music, from Lin-Manuel Miranda to Madonna. And my address book includes all the president's men, from Barack to Biden. But there's always more to do, especially when you're working for the fun of it. Because being a true entertainer isn't about money or awards, it's about going to bed every night having put a smile on someone's face. And being proud of what you've done."
Who is Gnome on The Masked Singer US? Guesses
No one was able to guess who was inside the Gnome mask. Jenny McCarthy Wahlberg guessed that it was Tony Bennett, Ken Jeong guessed Robert De Niro and both Nicole Scherzinger and Robin Thicke guessed Dustin Hoffman.
Who is Gnome on The Masked Singer US? Costume clues
Gnome's costume is covered in green moss and flowers. There are even flowers braided into their long beard and freckles on their face.
We can't speculate about the height of the person in the Gnome costume, but the costume creates a dynamic shape and it's hard to say what the person underneath the costume may look like.
Jolly Gnome would be a perfect triangle if not for the curvy hat, which curls over at the end. Their hat is a whole ecosystem unto itself, with a little door and window and mushrooms and flowers. The hat sits atop their head — adorned with red hair, because Gnome is a ginger — and their Grogu ears.
We don't know if Gnome is Irish like the much-beloved Lucky Charms mascot, but it's quite possible.
Could Gnome be someone from the Lord of the Rings or The Witcher universe because of the pointed ears. Or, in a clever twist, it could be someone from The Mandalorian. Gnome could also be a famous fellow ginger. For all we know, it could be Rupert Grint.
The details in the costume are absolutely stunning. The moss seems to be made from the same shiny plastic stuff that Easter grass is made from, and the yellow and white flowers are sprinkled all over while leaves and little twigs are strewn throughout. Even Gnome's earpiece mic is adorned with moss and mushrooms. And don't miss the brown and white stuffed bunny rabbit near the bottom of the costume.
That's what we've got so far in terms of clues: possibly Irish, possibly connected to a famous franchise, possibly a ginger and a possible nature lover.
Gnome will perform in the season premiere along with Mustang and Medusa. Only time will tell us who is behind the mask!
The Masked Singer season 9 premieres February 15 at 8 pm ET/PT on Fox.
Get the What to Watch Newsletter
The latest updates, reviews and unmissable series to watch and more!
Editorial Content Producer
Sarabeth joined the Watch to Watch team in May 2022. An avid TV and movie fan, her perennial favorites are The Walking Dead, American Horror Story, true crime documentaries on Netflix and anything from Passionflix. You've Got Mail, Ocean's Eleven and Signs are movies that she can watch all day long.
When she's not working, Sarabeth hosts the My Nights Are Booked Podcast (opens in new tab) and blog (opens in new tab) dedicated to books and interviews with authors and actors. She also published her first novel, Once Upon an Interview (opens in new tab), in 2022.