Who is Mustang on The Masked Singer US?
Who's under the Mustang mask?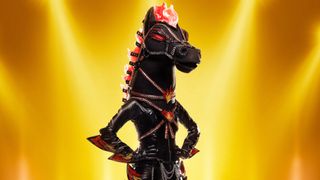 (Image credit: Michael Becker / FOX)
There are a whole new batch of masked contestants to fall in love with on The Masked Singer US season 9. One of the competitors that has everyone talking is Mustang, clad in black pleather, shiny vinyl and flames.
So who is Mustang? Over the course of The Masked Singer season 9 we'll gather clues and compile them here because we want to know who's under the Mustang mask as much as you do!
Here's everything we know about Mustang on The Masked Singer US.
Who is Mustang on The Masked Singer US?
Mustang found herself in a showdown with Medusa to move on, but after a Battle Royale performance she was eliminated. Mustang turned out to be none other than multi-platinum recording artist Sara Evans.
🗣 TAKE IT OFF! TAKE IT OFF! 🗣#TheMaskedSinger pic.twitter.com/J3uQfMhgZgFebruary 16, 2023
Who is Mustang on The Masked Singer US? Songs
Before the season even started, Mustang's performance from the season premiere episode was revealed on social media. Her rendition of Whitesnake's "Here I Go Again" gave the judges chills. Clearly, she's got a powerful voice and a commanding stage presences.
Oh, HAY! 🤩 Go OFF, #MustangMask! 🎤 #TheMaskedSinger pic.twitter.com/NVoWnll4pjFebruary 13, 2023
Who is Mustang on The Masked Singer US? Clues
Here were Mustang's clues:
Swag Bag Clue: Cover of Most Beautiful People. "I truly believe that beauty comes from the inside, but this time it's on the cover."
Voiceover Clue: "From the outside, my life may look like a shiny carnival. I've sold out arenas. I've won awards. And even collaborated with Elvis. But this ride has come with its fair share of pain. I've almost died more times than I can count. But I'm a survivor. I'm hell on heels. Every time I'm counted out, I come back stronger than before, with my herd right by my side. So tonight, I'm reining in all my horsepower as the sexy, mighty mustang. And after facing death, how scary can singing here be?"
Who is Mustang on The Masked Singer US? Guesses
The judges were stumped when it comes to Mustang's identity. Nicole Scherzinger guessed Wynonna Judd, Ken Jeong guessed Pink, Robin Thicke guessed Suzanne Somers and Jenny McCarthy Wahlberg guessed Joan Jett.
Who is Mustang on The Masked Singer US? Costume clues
At first glance, some of the things we spot immediately about Mustang is the shiny black vinyl bodice over a black pleather suit with glittering flames and metallic chains. Mustang's mane is made of flames and their eyes are red fire. Mustang is also sporting heeled boots.
A bedazzled red heart is at the center of their chest where the straps of the red and metal straps come together. Above it, there are flames at the chains that wind around the lower portion of Mustang's bridle.
It seems like Mustang would be tall, but when viewed next to the other Week 1 competitors, Gnome and Medusa, Mustang is actually the same height as Medusa and shorter than Gnome and their whimsical hat. In fact, Mustang might be the shortest of the three competitors in the first week because the horse mask rises significantly from their shoulders.
Mustang is intense. There's no question that Mustang is here to compete. Unlike Gnome, who wants to reach out and give you a hug, Mustang is all business. She's giving away a rock vibe, too, which opens up a world of possibilities.
So based on all of this information, we have some thoughts about what these clues might mean.
Mustang's stance exudes confidence, so it's very possible they're familiar to being on stage, either as a singer or in theater. They're tough — those flames and chains tell competitors that Mustang is someone to watch. The pleather and chains could be a reference to a possible interest Mustang has in another form of horsepower, as in motorcycles or fast cars. (Are we looking at a Motocross or NASCAR driver?)
We won't know for sure who is behind the mask until the mask comes off, but keep checking back here for more clues about Mustang's identity.
Who is Mustang on The Masked Singer US? Guesses
It's hard to tell who Mustang might be without all the clues, but now that her first song has been revealed there are some guesses coming in from social media. They vary from a rocker like Joan Jett or Debbie Gibson to a wrestler, like maybe the Bella twins.
The Masked Singer season 9 premieres February 15 at 8 pm ET/PT on Fox.
Get the What to Watch Newsletter
The latest updates, reviews and unmissable series to watch and more!
Editorial Content Producer
Sarabeth joined the Watch to Watch team in May 2022. An avid TV and movie fan, her perennial favorites are The Walking Dead, American Horror Story, true crime documentaries on Netflix and anything from Passionflix. You've Got Mail, Ocean's Eleven and Signs are movies that she can watch all day long.
When she's not working, Sarabeth hosts the My Nights Are Booked Podcast (opens in new tab) and blog (opens in new tab) dedicated to books and interviews with authors and actors. She also published her first novel, Once Upon an Interview (opens in new tab), in 2022.