Lee Mead on new Holby role: 'I missed Lofty!' (VIDEO)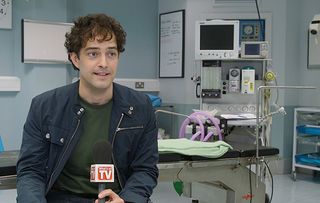 Lee Mead returns to Holby City Hospital as Ben 'Lofty' Chiltern, but this time he's swapping the corridors of Casualty's ED for the hospital's Keller ward. Here, Lee reveals what prompted him to come back...
Lee Mead has revealed he wanted to reprise his role as Ben 'Lofty' Chiltern in Holby City because he missed the character – and wanted to play him closer to home.
Stage and screen star Lee played the sensitive nurse in Holby's sister show Casualty for two years, before quitting last year to focus on his music. Next week, he reprises the role, but this time on Holby's Keller ward, rather than Casualty's ED.
"I think I missed Lofty really, he was a big part of my life for two years on Casualty," admitted Lee. "I had a year and a half off, went off, did a musical and flew a car, did my album and music stuff and then Oliver Kent, the exec on the show, got in touch and we discussed the potential of coming back into Holby."
He added that filming Holby in Elstree, Hertfordshire, rather than Casualty in Cardiff means he can now spend more time with Betsy, seven, his daughter with ex-wife, TV presenter Denise Van Outen.
"It's so much more of a lifestyle because it's one hour from home," said Lee. "We film in Elstree, so I'm not down in Cardiff during the week and that was hard for two years, just being back at weekends. It all seemed to fit together. There was a trial period for the character to see if Lofty could fit in and mix well with the other characters in the show and, touch wood, it's been going great."
Lee Mead back in character as sensitive nurse Ben 'Lofty' Chiltern
Casualty viewers last saw Lofty quitting his job in the ED to go travelling, after struggling with the trauma of having an agency nurse die on his watch. And it sounds like Lofty makes quite an entrance when he turns up as a nurse on Keller ward this week…
"Lofty's first scene coming in he makes quite an impact and helps a patient, which is really fun to shoot," said Lee, who also revealed that viewers will find out what he's been up to while he's been away. "For the first time, we touch on Lofty's past and go a bit in depth into how he first came into nursing and on a personal level as well some things that he's been going through whilst travelling, because he left [the ED] to go travelling around New Zealand and retrain in mental health."
According to Lee, viewers can expect to see a different side to Lofty in Holby – though it seems he hasn't changed too much…
"There's a new strength within Lofty now," he said. "Having been through what he's been through and then gone away travelling and cleared his head and worked out what he wants from life, it's almost like a choice to come back on his terms, which gives him this real inner strength. But he's still quite clumsy. He's still knocking things over occasionally and walking into a few doors... I don't think that's gonna leave him."
Despite working full-time on Holby, Lee's adamant he'll still have time for his music.
"I'm still going," he beamed. "I'm doing a little residency in Chelsea, the last Sunday of each month with my band and I've got a fifth album that I'm gonna be touring next year, it's like a 10-year anniversary tour, so I'm doing like a theatre tour next year at weekends, probably the last weekend of each month, in between filming Holby, so I am still singing, which is great. And I'm singing on set again because I did that on Casualty for quite a while. I don't know how it's gone down, but it's good fun!"
Catch Lee's debut in Holby City on Tuesday, May 16 at 8pm on BBC1.
Get the latest updates, reviews and unmissable series to watch and more!
Thank you for signing up to Whattowatch. You will receive a verification email shortly.
There was a problem. Please refresh the page and try again.