Tina Hobley is ready for The Jump: 'I love alpine sports and I'm fearless!'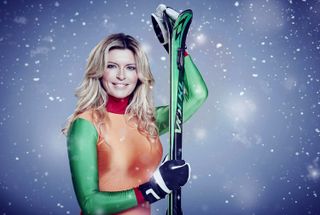 (Image credit: Ian Derry / Channel 4 Television)
Hurtling down a ski slope or whizzing down an icy skeleton run would fill many of us with terror, but not Tina Hobley!
As one of the 12 celebrities taking part in the third series of Channel 4's winter sports competition The Jump, the former Coronation Street and Holby City star told What's On TV that she's not the least bit afraid…
Are you a fan of The Jump?
"I know of the show and I know Davina, so I've seen bits of it before and I love alpine sports. I love skiing and I'm always torn whether to have a skiing holiday or a summer one. I love them equally. We go once a year for a week and we've been doing that for 10 years."
So would you say you're fearless?
"Yes I'm fearless. I don't like the idea of doing a reality show, but the challenge part of this I really wanted to do. You're being taught by people like Olympic skeleton champion Amy Williams so I really can't wait. I'm a huge fan of Ski Sunday. As soon as the ski season starts, I'm hooked!"
Do you know any of the other celebs taking part?
"Yes, I've got one of my mates, Tamara Beckwith, with me so I'm delighted. We're just like: 'Yes! We're going on holiday!'"
Who'll be there cheering you on in the Austrian Alps?
"I'll be out there for six weeks. The family will be coming out for half term and my parents are also coming out. We're making it a bit of a holiday. I haven't been to Innsbruck, but I've been to Austria a couple of times before."
Are there any events that you're not looking forward to? The skeleton looks really scary…
"I can't wait for the skeleton! It does look scary, but I'm a bit crazy like that. I love roller coasters and car racing. I don't mind the speed, but the one thing I'm not looking forward to is the ski cross country. It just looks weird so I can't get my head round it."
You also have slalom and moguls to contend with...
"I always avoid the bumps when skiing – I am not a jumper. I'm a skier who skis till lunch then I have a glass of wine and just ski down the mountain. I'm a bit of a fair weather skier!"
Are you feeling fit enough before The Jump gets underway?
"I've been seeing my trainer a little bit but I'm not a particularly fit person. I do yoga, and I love that. It's so good for core strength, plus I do a bit of pilates. All they told me was that you don't need to be very fit, you just need to have the guts to do it and be open-minded and learn new challenges. Well, I'm all of those things. I have the guts and I'm open minded to all of it. But remember I'm up against three Olympians - Beth Tweddle, Rebecca Adlington and Linford Christie. Rebecca looks incredible at the moment."
Did you pal Davina talk you into taking part?
"I know her, but she didn't talk me into it. I was more concerned about the reality side of the show but apparently there isn't much of that. It's just the events and training so I don't mind that. I'm not up for the popularity thing, the public vote. I'm just interested in the challenge."
So are you in it to win it?
"Oh, I'd love to stay in so I get to do most of those challenges. I'd be so sad if I didn't get to do at least half of them."
Have you heard about any injuries contestants have sustained in the past?
"I don't want to know! Someone tried to tell me, but I didn't listen. I mean, I've got injuries from skiing in the past, a bad back and an elbow injury, but you know, I'm just looking forward to all the fresh air. I'll come back so much fitter and hopefully have a nice time. I'll enjoy a few Schnapps, too! I just hope it's not too cold as I hate skiing when it's freezing cold!"
The Jump premieres on Channel 4 on Sunday, January 31, at 7.30pm
Get the latest updates, reviews and unmissable series to watch and more!
Thank you for signing up to Whattowatch. You will receive a verification email shortly.
There was a problem. Please refresh the page and try again.