As Hollyoaks turns 20, Nick Pickard revisits his Tony Hutchinson highlights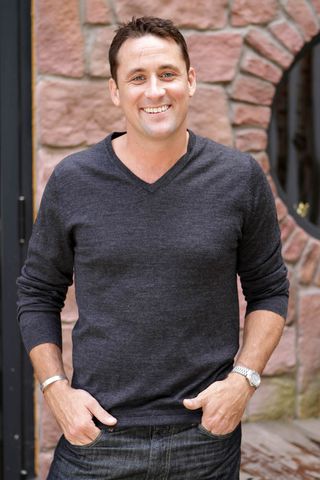 It's Hollyoaks' 20th birthday this week - and Nick Pickard tells Soaplife what that means to him and his character, Tony Hutchinson, who's been there from the start.
Tony Hutchinson has been in Hollyoaks village from day one. He's the longest serving cast member and it's a wonder he looks so fresh-faced, given the amount of drama he's lived through. And his suffering looks set to continue! As the show celebrates its 20th anniversary, Tony could be about to discover his son, Harry [Parry Glasspool], is gay.
"He wouldn't be angry he's gay," says Nick. "But he'd be angry that he'd lied to him and put John Paul's [James Sutton] career on the line."
Here Nick tells us about his two decades on the show.
How did you get the role of Tony?
"I had to do 10 auditions! I was so nervous. I had a group hug in my agent's office when I was finally told I'd got the part."
You did a Hollywood film as a kid. Would you like to do another?
"As a child, I did a film with Christian Bale and Christopher Lee called Mio in the Land of Far Away, but I actually always wanted to be in Grange Hill! My brother John was in it for 10 years. But I'm really happy at Hollyoaks. I'm not one of these people who think the grass is greener. I'm proud of the show and what it's become."
What can you remember about your first day at Hollyoaks?
"I was a bag of nerves, but everyone made me feel welcome, and some of those people still work there today. I remember word for word the first scene I did with Jeremy Edwards, who played Kurt."
How much has the show changed in 20 years?
"A lot. At the beginning, it didn't cover serious issue storylines and now that's one of things it does really well. In the beginning, there was a regular cast of just seven people and it was only on once a week. There's a third generation watching it now and I still bump into people who've been viewers since the beginning."
What has been your favourite storyline?
"Tony's cancer. I was really able to invest myself in it, although I didn't think I'd have to shave my hair for quite as long as I did."
And your favourite memory?
"The first time Hollyoaks went to the National Television Awards and they showed a clip of Tony. As the cameras panned the auditorium, I saw people such as David Jason laughing at my performance."
Have you got a guilty secret?
"We've always played lots of pranks. Will Mellor and Ben Hull once set fire to my foot. I was having a nap and woke up to an 8ft flame at the bottom of my trousers! I've also stolen some of Tony's clothes."
Which past cast members do you keep in touch with?
"A lot of them came to my 40th birthday party in May. I still see Jeremy Edwards, James Redmond and Will Mellor."
How have you managed to avoid being killed off?
"I always get on well with my boss!"
Hollyoaks, Channel 4
Get the latest updates, reviews and unmissable series to watch and more!
Thank you for signing up to Whattowatch. You will receive a verification email shortly.
There was a problem. Please refresh the page and try again.