Hollyoaks' Dan: 'It's truth time for Ally!'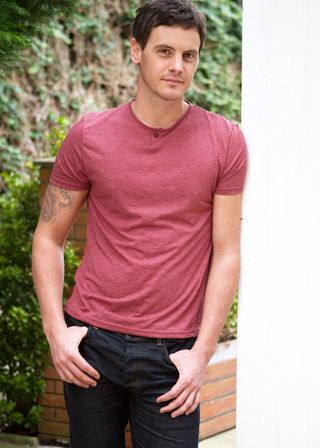 Hollyoaks' Dan O'Connor returns as Ally and reveals to Soaplife that a huge secret is about to be revealed and could change everything between Ally and Amy! Ally's back in Hollyoaks and he and Amy are all loved-up. But they could do without Ste playing gooseberry. "Ste wants to know what Ally's intentions are," Dan tells Soaplife. Ally insists that his intentions are strictly honourable. But that doesn't mean he's being strictly on the level. In fact, he's hiding a big, big secret! It's great to see Ally back! Where's he been? "He's been on manoeuvres. As a medic in the Army he disappears every so often, which is great for me as I get weeks off here and there." Ally's getting very cosy with Amy... "Ally asked Amy out just before he went away. They had a couple of dates and they're now in the thick of a relationship. He's besotted with her." And he's not bothered that she has a couple of kids? "No, he likes kids. But, understandably, Ste doesn't want him stepping in and being a new dad to Leah and Lucas. I think Ste's feeling protective. Amy and Ally are having what's meant to be a romantic lunch and Ste interrupts to ask Ally what his intentions are! Ally's a bit frustrated, but he understands why Ste feels he needs to look out for Amy." And what are Ally's intentions? "He tells Ste he wants a committed relationship with Amy. He fell for her the first time he met her." Are there any romantic skeletons in Ally's closet? "He did have a bit of a snog with Mercy, but that was before things were concrete with Amy. He might be a bit of a player, but he's committed once he's in a relationship - even if he is away a lot of the time." Soaplife knows Ally has a big secret, though. Can you give us a clue what it is? "All I can say is that there's a very big, meaty storyline coming up for Ally and I'll be in the show at least until the end of this year." Is Amy going to end up getting hurt? "It would be nice if she wasn't but this is a soap – and soaps need drama!"
Get the latest updates, reviews and unmissable series to watch and more!
Thank you for signing up to Whattowatch. You will receive a verification email shortly.
There was a problem. Please refresh the page and try again.