Hollyoaks spoilers: Get ready to rave it up with Romeo Quinn!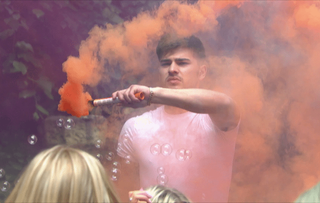 #FriYAY: Hollyoaks newcomer Owen Warner, who plays Romeo Quinn, reveals what's in store when he and pal Prince throw their latest summer rave party!
Next week on Hollyoaks, teenage summer party planners Prince McQueen and Romeo Quinn throw their loudest rave yet.
But there are some uninvited guests when the police arrive to shut-down the rave! Quick thinking Romeo orders Prince and Lily to hide all the money they've earned, because if they're not making a profit then it's not illegal. But can cheeky charmer Romeo talk his way out of trouble?
Owen Warner, who made his first appearance as village lawyer James Nightingale's secret son Romeo last month, reveals more...
What's life been like so far on Hollyoaks?
"So far, Hollyoaks has been a dream come true! When I was a little kid, I put on shows in my front room for my family and ever since I wanted to be an actor. So, for it to be really happening is crazy!"
How is it filming with Malique Thompson-Dwyer (Prince) and Lauren McQueen (Lily)?
"It's so much fun! They're both so funny and talented, and make the scenes we do together such a laugh. I've learnt so much from them already, and it feels like an honour to act alongside them."
What are Romeo's intentions with Lily?
"Romeo's mindset is very much like the actual Romeo, he's a hopeless romantic. He sees Lily and instantly he falls in love, more so as he gets to know her. The fact that she's married and he can't have her, won't stop him trying. He knows they're meant for each other."
How would you best describe Romeo?
"On Romeo's surface, there is a cocky, confident young lad full of bravado. No matter what happens, he always knows what to do. However, if you were to delve deeper, you would find a completely different side to him, one that nobody has ever seen before."
Does he want to reconnect with his father?
"In an ideal world, Romeo would knock on James' door and say, 'Hey, by the way, you're my dad.' However, after experiencing a childhood of hurt and trauma, Romeo has his guard up constantly. He'd love to have a relationship with James, but he's so scared of being rejected."
What is his relationship with his mother, Donna Marie?
"He's had to look after her for most of his life, caring for her whilst she's been in all kinds of states. It's been hard for him, but he loves her and he understands it's his job to look after her. He knows she loves him too, even if she doesn't show it.
How does Romeo deal with the police showing up at the rave?
"It won't be the first time he'll have had to deal with the police, so it doesn't faze him. He's educated himself so that he can be protected by using his knowledge, and beat people who think they're above him."
How annoyed is Romeo that Prince and Lily hide the money they've earned in the woods?
"He will be furious! He has people to pay back, someone who would cause serious harm if they don't receive their money."
How does Romeo use his intelligence to make the raves a success?
"Romeo has the gift of the gab, he's a natural money maker and could sell ice to an Eskimo. He understands what people want, and he knows how to impress them. The raves are only a start to his money making schemes..."
Is this the end of Romeo's raves? Keep watching Hollyoaks all next week at 7pm on E4 to find out!
Get the latest updates, reviews and unmissable series to watch and more!
Thank you for signing up to Whattowatch. You will receive a verification email shortly.
There was a problem. Please refresh the page and try again.