Nico Mirallegro: 'It was hard to leave Hollyoaks, but I'm glad I did'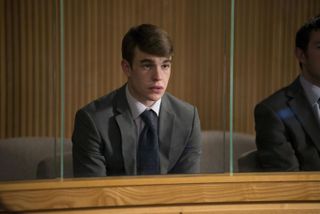 Ex Hollyoaks star Nico Mirallegro talks about his shocking new role in Common, Jimmy McGovern's BBC1's powerful new feature-length drama (Sunday, July 6), and why it was a wrench to leave Hollyoaks...
You play Johnjo O'Shea, a teenager who gets arrested for murder simply because he was in the wrong place at the wrong time…
"Yes. Johnjo is 17 and very young for his age. Then one night he drives his cousin and his cousin's mates out to a pizza place. Everything seems totally fine and then a fight breaks out and somebody gets stabbed."
Although Johnjo isn't involved in the killing, why is he prosecuted?
"It's really shocking because he hasn't actually done anything wrong. He just drove his cousin for a pizza – that's how innocent he is! But he's prosecuted under something called 'joint endeavour' (where an innocent person can be jailed for a crime committed by a group they're involved with), which I didn't know anything about before playing Johnjo. But it's definitely something that needs changing."
Johnjo's family then fight to stop him going on trial, don't they?
"Yes. He comes from a good family. He's haemophiliac and has been wrapped up in cotton wool all his life, especially by his mum Coleen (Jodhi May), who's very protective. That's why for him to get dragged into something like this is so wrong."
Do you have a lot of sympathy with Johnjo's situation?
"I've thought about it a lot. It must be haunting for a normal young lad at 17 to be dragged into something like this. The most frightening thing is that it could happen to me now, even as an actor. It could happen to anybody if you're in the wrong place at the wrong time. It's a horrible feeling."
You play the lead in this alongside the likes of Danny Mays and Robert Pugh. How was that?
"Terrifying! It's a cast you dream to work with, but to be the main focal point is daunting! I just hope people think I've done the role justice."
Did you feel a need to unwind after the intensity of filming something like this?
"Yes. There's always a good hour where your adrenaline is still going and you're still pumped from the scene and thinking, 'I should have tried it a different way'. I just ring my parents."
With roles in My Mad Fat Diary, The Village and now Common, you've moved on a lot since your Hollyoaks days playing emo teenager Newt…
"It was hard to leave Hollyoaks because I was 18 and I was earning a nice bit of money and the cast had become like family after four years on the show. But I really wanted to try and push to do new things and challenge myself, so I'm glad I've done it now."
Jimmy McGoverns new drama Common airs on Sunday at 9pm, BBC1
Get the latest updates, reviews and unmissable series to watch and more!
Thank you for signing up to Whattowatch. You will receive a verification email shortly.
There was a problem. Please refresh the page and try again.