60th BFI London Film Festival | Tuesday 11th October: Pick of the Day – Lovesong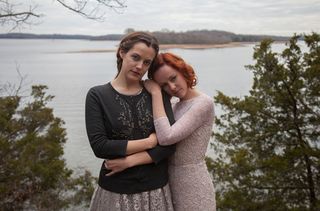 For former childhood friends Sarah (Riley Keough) and Mindy (Jena Malone), the lines between platonic and romantic friendship become confusingly blurred in director So Young Kim's subtly touching indie drama Lovesong.
The two have not seen each other for years when free spirit Mindy breezes in on a visit, offering a lifeline for lonely young mother Sarah. Her husband (played by Beasts of No Nation director Cary Joji Fukunaga) is away on business for long periods and, as a painfully detached Skype conversation indicates, he's emotionally absent, too.
The friends take off on a restorative road trip with Sarah's three-year-old daughter Jesse (Jesse Ok Gray, Kim's daughter with her co-screenwriter husband Bradley Rust Gray; their elder daughter, Sky Ok Gray, later plays the six-year-old Jesse). En route, the women glimpse the possibility of a deeper intimacy. Yet Mindy departs almost immediately and it is to be three years before the women meet again, on the eve of Mindy's wedding in Nashville.
Lovesong doesn't go in for high drama and nor do its characters go in for grand gestures or big emotional declarations - although Rosanna Arquette does deliver a flamboyant cameo on the sidelines as Mindy's peevishly self-absorbed mother. Instead, Keough and Malone, both terrific, convey depths of yearning through looks and glances. There's nothing clear-cut about Sarah and Mindy's feelings for one another and Lovesong conveys the complexity of their emotions with tenderness and restraint.
Lovesong is showing today at the Vue Leicester Square at 6.30pm and at the Hackney Picturehouse tomorrow at 6.15pm.
Get the latest updates, reviews and unmissable series to watch and more!
Thank you for signing up to Whattowatch. You will receive a verification email shortly.
There was a problem. Please refresh the page and try again.