62nd London Film Festival | Widows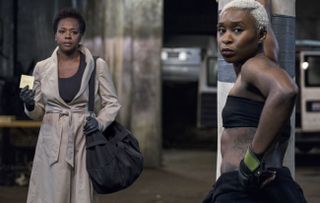 (Image credit: 20th Century Fox)
The 62nd BFI London Film Festival gets underway today with the Opening Night Gala screening of Steve McQueen's Widows, kicking off twelve days of the world's best cinema featuring featuring a diverse selection of 225 feature films from 77 countries, including 21 World Premieres, 9 International Premieres and 29 European Premieres.
The film sees McQueen, Oscar-winning director of 12 Years a Slave, teaming up with Gone Girl author Gillian Flynn for a heist thriller based on Lynda La Plante's iconic 1980s TV series. Updating the action to contemporary Chicago, the film casts a steely Viola Davis as the perilously debt-strapped widow of a master criminal (Liam Neeson) who recruits fellow grieving spouses Michelle Rodriguez and Elizabeth Debicki, plus spunky outsider Cynthia Erivo, to complete the robbery planned by her late husband.
Unfortunately, the dead men stole £2million from local gangster turned on-the-make politician Jamal Manning (Brian Tyree Henry). And he wants his money back.
As the women slowly put together their plan, all eyes are on a racially charged local election pitting African-American Manning against Irish-American Jack Mulligan (Colin Farrell), glib heir to a corrupt political dynasty in the city. And, as Davis's Veronica knows, it's her crew's very invisibility, as women, that gives them an edge. 'The best thing we have going for us is being who we are. No one thinks we have the balls to pull this off.'
Beautifully shot by McQueen's regular cinematographer Sean Bobbitt, the movie doesn't entirely pull off its mix of gloss and grit. Its twists are too blatantly signposted to generate skin-prickling suspense and the heist itself doesn't pack the punch you expect. Yet if the story's political, racial and gender subtext sometimes acts as a drag on the action, it gives the film a depth and richness other films of the genre often lack.
In the end, though, with Davis on magisterial form and with strong support from her female co-stars and also from the likes of Daniel Kaluuya and Robert Duvall, it's the terrific performances that make the film so rewardingly watchable.
Widows screens at Cineworld Leicester Square at 7pm and at the Embankment Garden Cinema at 7.45pm tonight, and at the Embankment Garden Cinema on Thursday 11th October at 2pm and at the Odeon Tottenham Court Road on Friday 12th October at 8.40pm, and goes on general release from Friday 6th November.
Get the latest updates, reviews and unmissable series to watch and more!
Thank you for signing up to Whattowatch. You will receive a verification email shortly.
There was a problem. Please refresh the page and try again.