A Man For All Seasons (1966) | The Oscar-winning historical drama on Blu-ray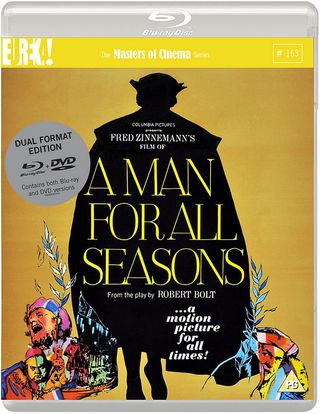 Winner of six Academy Awards and starring Paul Scofield, Orson Welles, John Hurt, Susannah York and Nigel Davenport, the biographical British drama, A Man For All Seasons, is out on Blu-ray for the first time in the UK in a special Dual-format edition as part of The Masters of Cinema Series…
Ranked as one of the finest British films of all time, director Fred Zinnemann's (High Noon, From Here to Eternity, Day of the Jackal) A Man for All Seasons was lavished with awards and critical praise upon release in 1966 for its opulent mise en scène and the incredible performances from its cast.
Sir Thomas More (Paul Scofield), England's Roman Catholic Chancellor, is forced into a difficult position when corrupt King Henry VIII (Robert Shaw) demands his approval to divorce his wife and marry his mistress.
Torn between his conscience and duty to the crown, Sir Thomas chooses to say nothing, sparking the rage of the king. What unfolds is a battle of wills packed with palace intrigue, political brinkmanship and the fate of man, church and country. In the end, his silence spoke loudest of all…
Order from Amazon: http://amzn.to/2gOp1PD (opens in new tab)
https://youtu.be/HM7jj9t2CQ8
Thank you for signing up to Whattowatch. You will receive a verification email shortly.
There was a problem. Please refresh the page and try again.