American Satan | Achieving heavy metal stardom is a devil of a job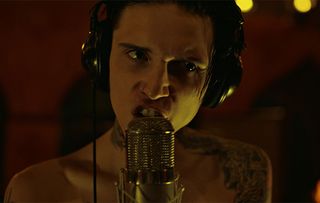 (Image credit: Ash Avildsen)
Sympathy for the devil.
As they say, the devil has the best tunes. No wonder then that so many musicians – from Robert Johnson to the Rolling Stones and beyond – have delighted in giving themselves satanic airs.
So too do would-be rock gods The Relentless, the fictional band whose giddying rise is charted in co-writer/director Ash Avildsen's exuberant heavy metal movie American Satan.
Hailing half from England, half from the US, the fame-hungry wannabes turn up on the Sunset Strip in West Hollywood looking for their big break. For all their swagger and bravado, the odds seem stacked against high-cheekboned frontman Johnny Faust (Andy Biersack) and his band mates, including guitarist Vic (Booboo Stewart) and punk pixie bassist Lily (Jesse Sullivan).
Yet it isn't long before enigmatic stranger Mr Capricorn has turned up in their path, offering to give their career a boost. Be careful what you hunger for. Played with impish mischief by Malcolm McDowell, Mr Capricorn is the story's diabolical tempter, and his help comes at a price...
Turning the dial up to 11.
Avildsen, son of Rocky director John G Avildsen, pulls out all the stops as The Relentless rocket to fame, depicting scenes of decadence and debauchery that might even have brought a blush to Led Zeppelin in their imperial pomp. Inevitably, the groupies and the heroin take their toll, particularly on the callow Johnny, who has left behind a doting mom (Denise Richards, no less) and a sweet high-school girlfriend (Olivia Culpo) back home in Columbus, Ohio. Can he escape his Faustian pact before it is too late?
As rock movies go, American Satan has the makings of a cult classic. Primed, no doubt, by his insights as the founder of indie record label Sumerian Records, Avildsen turns the dial up to 11, throwing music biz satire and heavy metal bombast into the mix, as well as shaping a cautionary tale about the cost of stardom. Yet even when things turn very dark, the movie retains a playful spirit that keeps us on board.
American Satan debuts on Sky Cinema Premiere on 11 June. Available on Amazon, iTunes, Google Plus, VOD.
https://www.youtube.com/watch?v=mutMh1RMkCE
Get the latest updates, reviews and unmissable series to watch and more!
Thank you for signing up to Whattowatch. You will receive a verification email shortly.
There was a problem. Please refresh the page and try again.